Help Brookgreen help the Red Wolves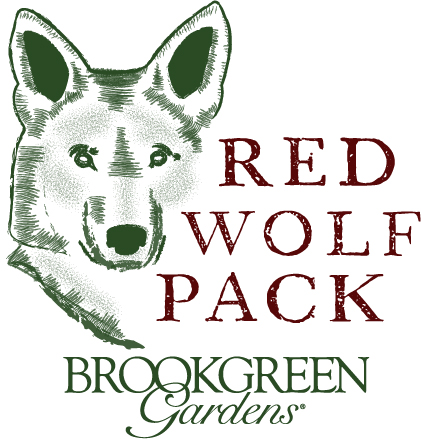 In April 2020, Brookgreen Gardens received a grant from the Conservation Centers for a Species Survival (C2S2) and USFWS Recovery Challenge to help add a Red Wolf habitat to Brookgreen's Lowcountry Zoo, part of Brookgreen's Zoo master plan that was approved by the Board of Trustees in 2007. This habitat will include breeding space to assist the efforts of the Red Wolf Species Survival Plan (SSP) to expand the population of Red Wolves in North America.
The Red Wolf is one of the most endangered canids in the world, as years of hunting and habitat loss had driven the species to the brink of extinction by 1970. Historically, the Red Wolf ranged from southeastern Texas to central Pennsylvania but, today, the only place Red Wolves can be found in the wild is in eastern North Carolina's Albemarle Peninsula. Equally at home in forests, swamps, and coastal prairies, Red Wolves can thrive in a wide range of habitats. Red Wolf is a keystone species – one that has a disproportionate effect on the ecosystem – and the loss of the Red Wolf drastically changed the natural environment in the areas where they lived.
As part of an ambitious captive-breeding program, the U.S Fish & Wildlife Service captured the 14 remaining Red Wolves they could find in the wild. These wolves are the ancestors of the 75 to 100 animals that now live in North Carolina, the first animal to be successfully reintroduced after being declared extinct in the wild.
The C2S2 grant has been matched by a generous donation from the Christy and Ken Taucher Donor Advised Fund of Central Carolina Community Foundation which will support the first phase of the project.
Community support in the amount of $100,000 is needed to complete exhibit
TO DONATE:  Please make a note to designate your donation to the RED WOLF PACK
Video courtesy of Point Defiance Zoo and Aquarium