Visitors'  Information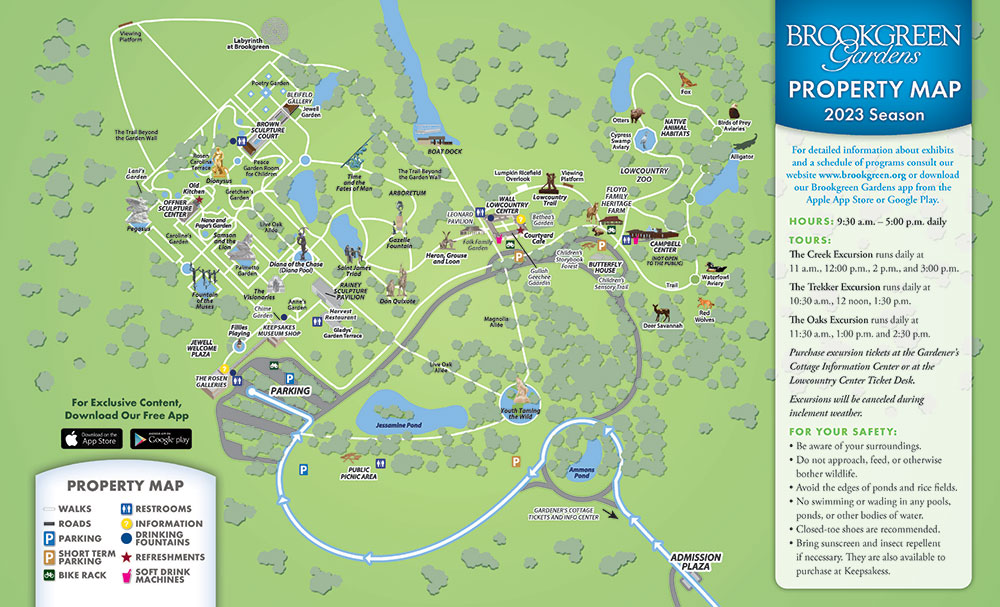 As Brookgreen Gardens is home to many different types of wildlife, we recommend the following for a safe visit.
Be aware of your surroundings.
Please admire, don't pick. Preserve our garden's natural beauty.
Do not approach, feed, or otherwise bother wildlife.
Avoid the edge of ponds and ricefields.
No swimming or wading in any pools, ponds, or other bodies of water.
Closed-toe shoes are recommended.
Stay on the paths.
Bring sunscreen and insect repellent if necessary. This is also available to purchase at Keepsakes.
As an educational and cultural institution that welcomes children and families, no concealable weapons are allowed at Brookgreen Gardens. 
What is included in General Admission?
Your general admission ticket includes all gardens and galleries, the Lowcountry Zoo, and exhibits in the Lowcountry History Center. Your ticket is good for 7 consecutive days. 
Where should rideshare passengers be dropped off?
Make sure your driver knows to take you through the admissions plaza and to the Welcome Center.  The driver is allowed inside the admissions plaza for drop off.  The Gardner's Cottage is NOT the drop off site.
Can I bring my pet to Brookgreen Gardens?
No, for your pet's safety and the safety of our zoo collection, we do not allow pets in Brookgreen Gardens. Pets also cannot be left in cars.
There are several local doggie day-cares that will be glad to take care of your pet while you visit. We do not have a relationship with these businesses but have listed several that are highly rated and close to Brookgreen for your convenience. 
Service animals are defined as dogs that are individually trained to do work or perform tasks for people with disabilities. Examples of such work or tasks include guiding people who are blind, alerting people who are deaf, pulling a wheelchair, alerting and protecting a person who is having a seizure, reminding a person with mental illness to take prescribed medications, calming a person with Post Traumatic Stress Disorder (PTSD) during an anxiety attack, or performing other duties. Service animals are working animals, not pets. The work or task a dog has been trained to provide must be directly related to the person's disability.
Dogs whose sole function is to provide comfort or emotional support do not qualify as service animals under the ADA.
(source: https://www.ada.gov/service_animals_2010.htm)
Do you have a restaurant?
Yes, check our dining page for all the information.
Are picnics allowed?
We have two designated picnic areas where you may picnic.
May we ride bicycles at Brookgreen?
Bicycles are welcome on the hard surface (automobile accessible) roads of Brookgreen. For the safety of walkers and strollers, no bikes are allowed on walking paths in the gardens or the zoo. 
Are you handicapped accessible?
Yes
Do you have wheelchairs available for rent?
We do not have wheelchairs, guests who require a wheelchair or other mobility equipment should bring their own.
The following companies provide wheelchair and scooter rentals. Wheelchairs and mobility scooters are welcome in all Brookgreen Gardens venues
Mobility Center - Home Medical Equipment
Wheelchair and Scooter Rental of Myrtle Beach
Is there parking for RVs?
Yes, we have a designated area for RVs.
How do I find out about available jobs at Brookgreen?
Go to our Careers Page to find a link to all currently available positions. 
Can we have our family/engagement/pregnancy/senior/prom photos taken at Brookgreen?
We do allow photography sessions by appointment. Details are on our Photography page.