Daily Schedule and Updates
Daily Operations
Alligator Feeding - Mon, Wed, Fri. promptly at 1:45 PM
The Gardener's Cottage Ticket and Information Center is open from 9:30 AM to 4:30 PM.  
The shuttle will run from 10:00 a.m. - 5 p.m.
The Red Wolf habitat construction is underway. The Lowcountry Zoo trail is closed from the exit of the Waterfowl Aviary. Please do not enter the construction area.


The Creek Excursion runs daily at 11 a.m., 12 p.m., 2 p.m., and 3 p.m.  
Beginning on March 5 and running through November 23, our Creek Excursion will allow you to cruise the creeks on a 48-foot pontoon boat.  You will pass historic rice fields, now home to alligators, waterfowl, and osprey, as an interpreter helps you see the distinctive landscape of the rice plantations and understand the role of enslaved Africans in cultivating the rice crop and the shaping the history of the Lowcountry. The Creek Excursion lasts approximately 45 minutes.
Tickets are $10 for adults and $6 for children, in addition to Gardens admission. Boat rides often sell out, and we strongly recommend purchasing tickets when you arrive at the Gardens as soon as possible. Tickets are available at the Gardener's Cottage and the Lowcountry Center for same-day purchase and must be purchased at least 10 minutes before the tour time. Boat tickets are not sold online or by telephone. 
The Trekker Excursion 
March to November 
Ride with an interpreter along an avenue of historic Live Oaks to a plantation cemetery, a Civil War earthen fort site, and a historic rice mill chimney. From the top of one of the area's highest bluffs, see a panoramic view of the Waccamaw River.
Tickets are $10 in addition to the garden admission and must be purchased at the Wall Lowcountry Center at least 10 minutes before tour time. Excursions last approximately 50 minutes. Since this excursion goes over rough terrain, it is not recommended for children under six years of age. For their safety, children aged 3 and under will not be allowed on this trip.  All children are required to be secured in their own seats.
Daily at 10:30 a.m., 12 noon. 1:30 p.m. 
(Important Note: the Trekker travels over dirt roads, which are quite bumpy in places. If you have a physical condition that may be affected by riding over rough terrain, we suggest you consider an alternate excursion such as the pontoon boat cruise.) 
The Oaks Excursion   
March to November 
Ride in our mini-bus to the site of the Oaks Plantation. Learn the history of the prominent Alston family during the colonial and antebellum eras. Visit the Alston family cemetery and grounds of the slave village. Along the way, see the natural beauty of a protected Long Leaf Pine forest. 
Daily at 11:30 a.m., 1:00 p.m., and 2:30 p.m. 
Tickets are $10 in addition to garden admission. Children age 3 and under are not allowed. All children are required to be secured in their own seats.  Purchase tickets at the Lowcountry Center Ticket Counter or the Gardener's Cottage Ticket and Information Center at least 10 minutes before tour time. Excursions last approximately 1.5 hours.
Important information about this tour
Travel over rough dirt roads. We do not recommend this tour if you have back problems or other physical issues.
The Tour is 2 hours and involves getting in and out of a vehicle several times.
There is approximately a mile of walking over dirt roads, paths, and through wooded areas.
Due to the nature of this tour, children under the age of 12 are not allowed.
Daily 12:00 p.m. and 2:30 p.m.
Brookgreen Gardens is a National Historic Landmark and is listed on the National Register of Historic Places. It is part of the South Carolina National Heritage Corridor and the Eastern South Carolina Heritage Region.
Meet the Animals – Daily 2:30 PM 
Explore the world of animals native to the southeast as an interpreter introduces you to a live animal in an interactive setting in this 30-minute program at the Campbell Center Program Shed at 2:30 p.m. Free with garden admission.
Mother Nature's Cafe - 
 11:00 AM and 1:00 PM Daily
Walk through the Zoo with an interpreter and observe the animals' natural behavior as they are fed a snack in this informative 50-minute tour. Meet at the Domestic Animals Barn along the Lowcountry Trail. Free with garden admission.
Butterfly House   ***closed for the season*** Planned opening May 1
This seasonal exhibit features a lush garden filled with tropical plants where hundreds of butterflies soar through the air or perch on your shoulders.
Galleries and Exhibits
The Rosen Galleries  - AWA: Looking Forward Reaching Back, opening May 13
The Jenniwein Gallery - Film presentations - Brookgreen's History, The Campaign for the Next Generation, Rodin - looping all-day
The Noble Gallery - Brookgreen Plein Air Guild through May 29.
The Offner Sculpture Learning and Research Center
The Lowcountry Trail - All Day
Enchanted Storybook Forest - All Day
Children's Sensory and Nature Trail - All Day
Lowcountry Zoo - All Day
Whispering Wings Butterfly House - closed for the season
Upcoming Events and Lectures
Please note: pets are not allowed at Brookgreen for their safety and the safety of our animal collection. Pets are also not allowed to be left in vehicles for their own safety.
Service animals that have received special training to assist disabled persons are welcome.
Animals whose sole function is to provide comfort or emotional support do not qualify as service animals under the ADA.
Dining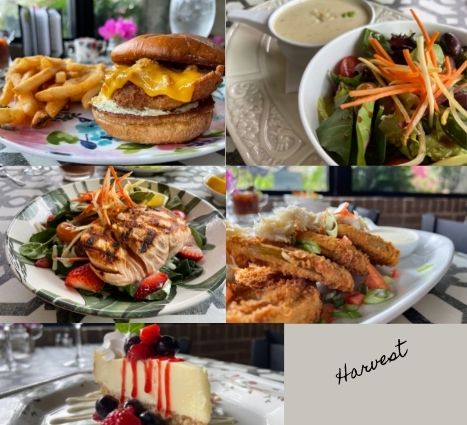 Harvest Restaurant offers a full-service menu and is open daily, from 11:00 AM to 3:00 PM. For reservations, click HERE. 
Each Thursday through 4/20, we will remain open until 8:00 pm so guests can enjoy 'Dinner a la Art.' The Rodin Exhibit, Austin's Harvest Restaurant, Keepsakes & the Jennewein Gallery will be open to guests. The Sculpture Gardens will be roped off at dusk. The Zoo will close at 5:00 PM.
The Old Kitchen is open daily from 10:00 AM to 4:00 PM featuring homemade soups and sandwiches. 
The Courtyard Cafe is open from 10:30 AM to 3:30 PM 
Other Information
Brookgreen does not provide wheelchairs or other personal ambulatory devices. You can bring your own wheelchair or stroller to enjoy the Gardens. If you need to rent a wheelchair or scooter, several local companies rent equipment; however, they will not deliver to the Gardens.
Mobility Center - Home Medical Equipment
Wheelchair and Scooter Rental of Myrtle Beach