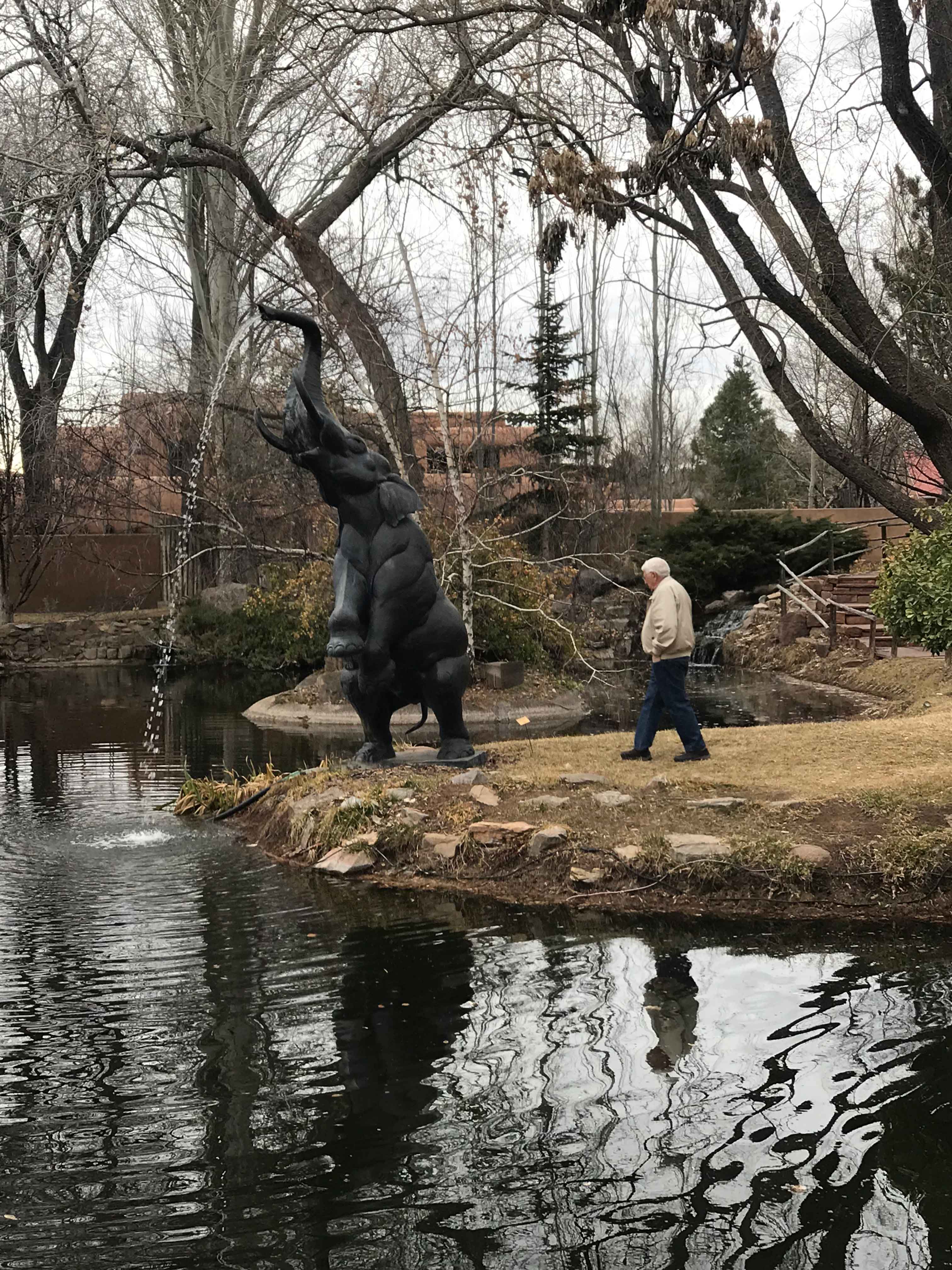 Matteucci Sculpture Garden - Elephant by Dan Ostermiller
The Curator's Circle is a newly created group of Brookgreen members interested in Brookgreen's special connections with sculptors, galleries, and collectors of American art.  The Curator's Circle is invited to special programs, events, and to travel with Brookgreen's Curator, Robin Salmon.
Robin R. Salmon, Brookgreen's Vice President of Art and Historical Collections and Curator of Sculpture, leads the Curator's Circle, planning its annual trip and calendar of events, securing featured speakers, and conducting behind-the-scenes programs, special exhibition tours, and visits to artists' studios and private art collections.
Your contribution to the Curator's Circle will gain you invitations to see behind-the-scenes of our nation's premier American figurative sculpture collection at Brookgreen Gardens; the first public sculpture garden in America and the largest collection of American figurative sculpture displayed in an outdoor setting, as well as in several indoor galleries located within Brookgreen's historic property.
Among the special events and art-related programs the Curator's Circle will enjoy are;
•    Private curator-led or artist-led tours of select special exhibitions
•    Meet-the-Artist receptions with prominent sculptors
•    Invitation to Annual Curator's Circle events with distinguished guests
•    Invitation to join the Annual Curator's Circle trip to art destinations (additional charge) and curator-led tours to visit artists' studios and private art collections
•    Salons on a range of art-related topics, including art collecting and connoisseurship
Your annual Curator's Circle contribution will help provide sustainable funding for Brookgreen's art exhibitions, lectures, and workshops.  Your gift will support and enhance the Art Collections program of Brookgreen Gardens. Your participation will be recognized on Curator's Circle listings in Brookgreen's Annual Report and on its website. The support of the Curator's Circle will also be acknowledged in exhibition and program signage throughout the year.   
 All Brookgreen Gardens members at the President's Council level and above are eligible to participate in the Curator's Circle. Participation begins with an annual gift of $1,000 for individuals and $1,500 for couples. To join the Curator's Circle, please complete the enclosed reply form and return it to the address provided with your payment by check or your credit card information. For more information, please contact the Curator's Circle team at 843-979-6076.
Read about the 2019 Curator's Circle trip to San Antonio on our blog!
2020 Fall Events (Rsvp Required):
October 24, 2020
11 a.m. - 12 p.m.         Campbell Center Studio - "Sculpathon" at Brookgreen - Interact with sculptors at work
4:30 p.m. - 5:30 p.m.   Jennewein Gallery - National Sculpture Society 87th Annual Awards Exhibition - Engage with exhibiting sculptors 
November 10, 2020
2 p.m. - 3 p.m.             Bleifeld Gallery - Meet Grainger McKoy and hear about his works of art
November 20, 2020
4:30 p.m. - 5:30 p.m.  Jennewein Gallery - Rosie Sandifer: A Life in Painting and Sculpture - Engage with exhibition artist, Rosie Sandifer  
To Rsvp to Curator's Circle events, please contact Ashley Buxton at (843) 979-6076 or abuxton@brookgreen.org