About two hours and fifteen minutes from Brookgreen Gardens is a town called Bishopville, home to famed topiary artist Pearl Fryar and The Pearl Fryar Topiary Garden. A visit here is a whimsical experience as you explore artfully crafted trees and shrubs, pruned into fanciful shapes that could have easily come straight out of a children's book. Mike Gibson of Gibson Works, based out of Ohio, has recently taken up the mantle and is helping to restore the garden and its many works of living art to their former glory.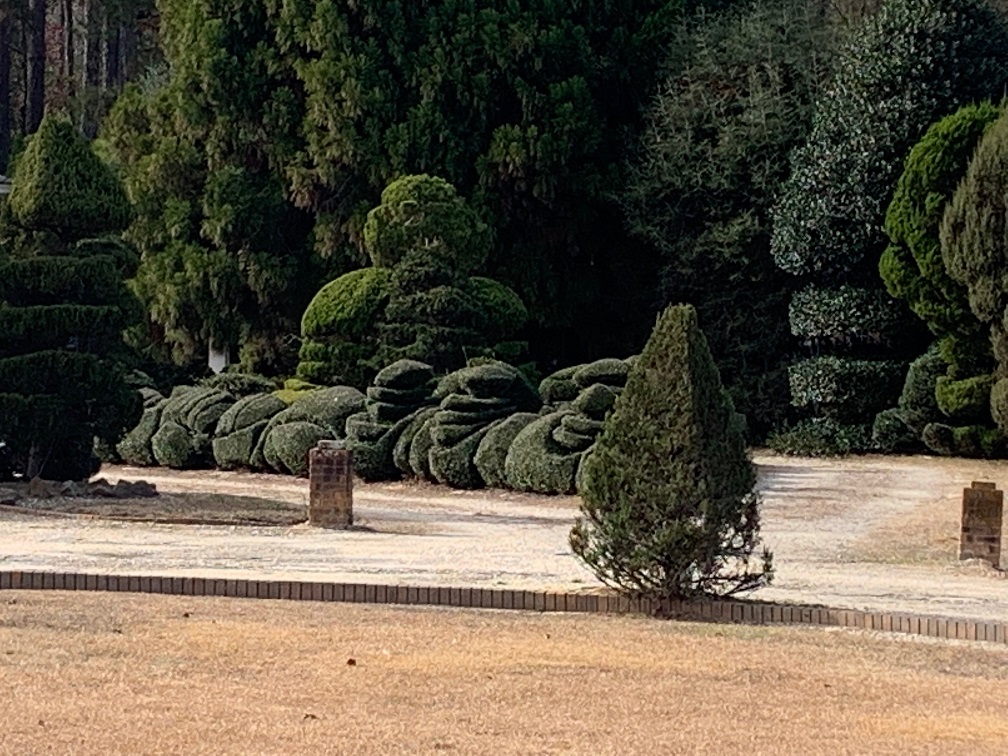 A view of Pearl Fryar's topiary garden
Understandably, caring for a three acre garden loaded with carefully trimmed trees and shrubs along with garden beds is a big job for one person. Eager to help with restoring this remarkable site, public gardens throughout South Carolina (and beyond!) have been scheduling workdays to lend a helping hand. Brookgreen Gardens has been honored to be among those in this effort. I was fortunate to join in with our second, and most recent, work trip to Mr. Pearl's garden, and boy was I glad I did!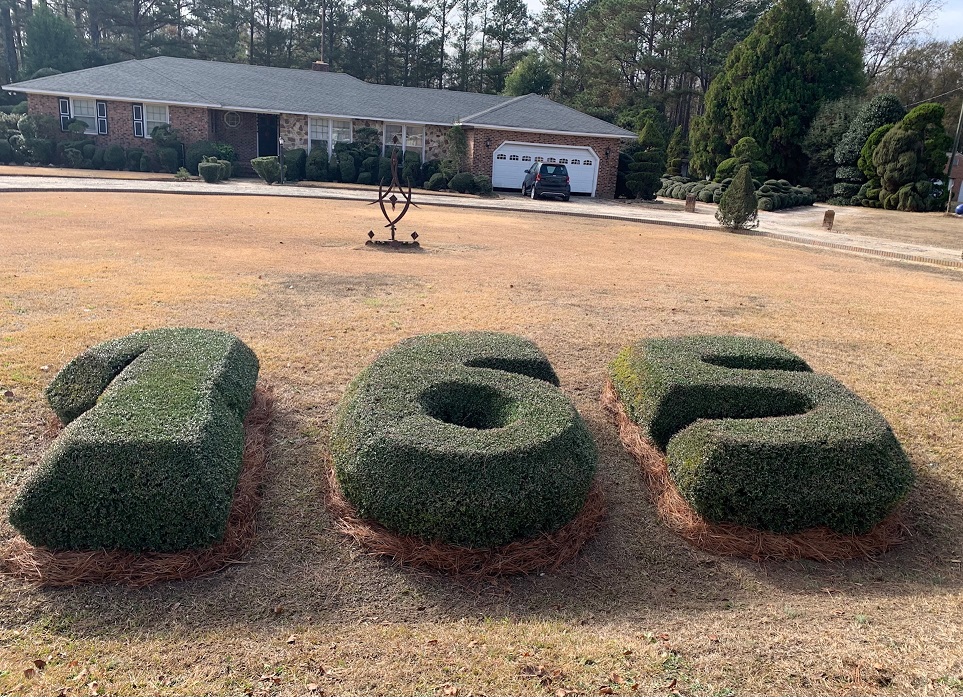 Topiary design of Pearl Fryar's house number
Due to Mr. Fryar's health, he has not been able to care for the garden as he had in the past. Fortunately, fellow topiary artist Mike Gibson has been on the ground to help steer the efforts and direct visiting gardens on how to best utilize their time, staff, and talent to make a meaningful impact. We were joined by Atlanta Botanical Garden and Moore Farms Botanical Garden for a workday to help Mike tackle some tasks around the grounds, allowing him to focus his topiary chops on the reshaping and upkeep of the shrubs and trees.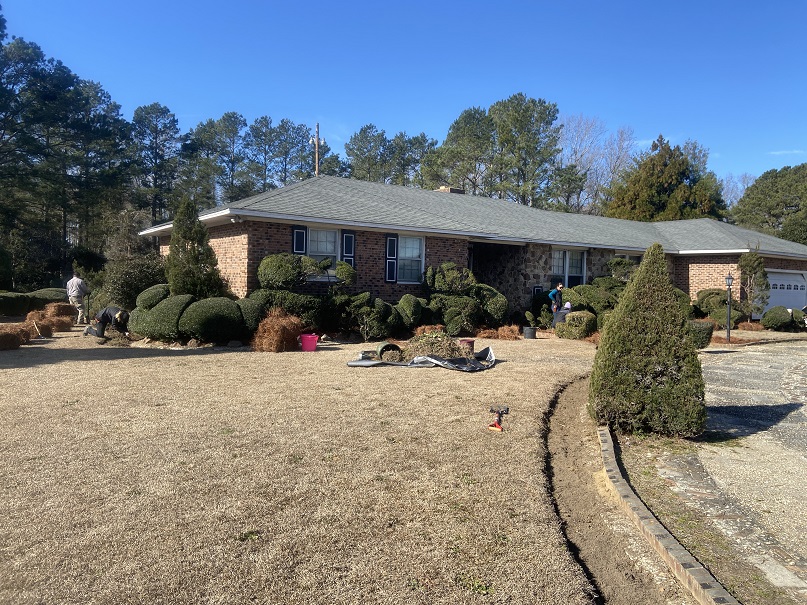 Horticulturists from multiple gardens working
After arriving with a trailer-load full of pine straw, we got to work. Our efforts were focused on helping to weed beds around the property and then spreading pine straw. Working ever-so-carefully we maneuvered around the topiaries to apply the pine straw. It turned into a group effort at especially tight points, with someone in the bed, behind the shrubs, and someone else passing pine straw on through!

Brookgreen staff laying pine straw
At the end of the day, we were satisfied with our work and the opportunity to be a part of this great effort! We look forward to more workdays and learning from Mike Gibson as he shares his experiences and knowledge of topiary with us. Hopefully soon we will even be able to include topiaries within our gardens here at Brookgreen. While most of our work is done within the bounds of Brookgreen's many acres, it is a pleasure for us to be able to extend a helping hand to our fellow gardens when they need it!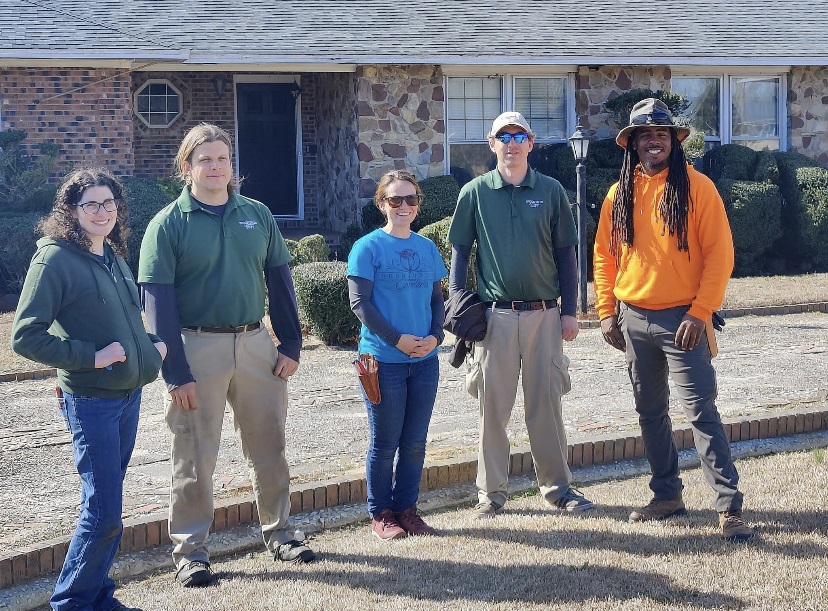 Brookgreen staff with Mike Gibson (far right) Photo credit: Mike Gibson
If you want to learn more about Mike Gibson, be sure to attend his upcoming Brookgreen U and see his topiary demonstration on March 11th at the Garden Symposium!
See you in the Gardens (and maybe even in Pearl Fryar's, too)!