Image
Brookgreen Gardens has a wonderful greenhouse where we propagate plants for the gardens and our fall and spring plant sales, as well as store our tropical plants over the winter. This past winter, while looking through our stored plants, another Horticulturist and I came across a plant we had not noticed before: Tacca integrifolia, or White Batflower.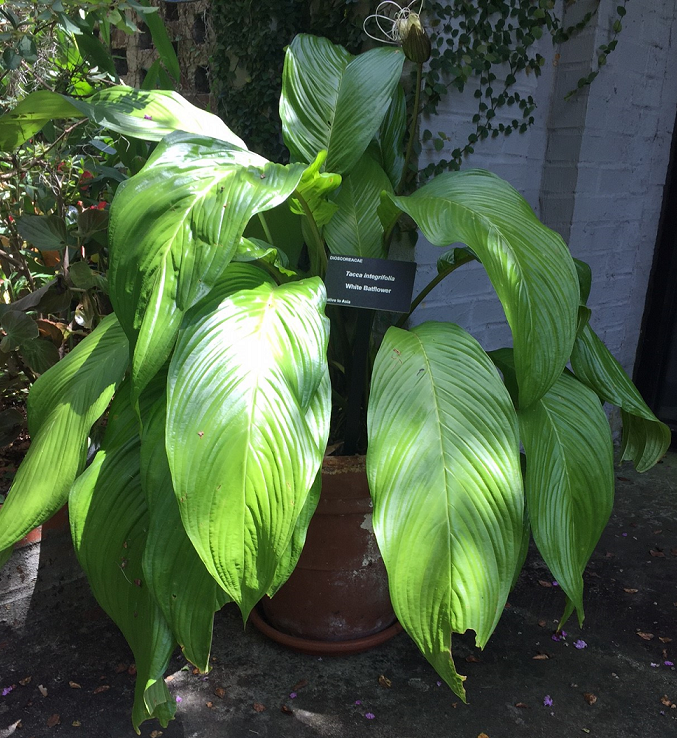 I had seen pictures of Batflowers before and remembered their unique flower. Naturally, there was only one thing to do – plant them out in the gardens. Once the weather warmed up a bit, the Tacca integrifolia came outside, along with a few other tender plants, to be temporarily housed in the Upper Right Wing of the Sculpture Gardens with me, and in a pot in the Upper Left Wing with Frank, a fellow Horticulturist. It was only a little over a week ago that I noticed something peculiar – a flower bud!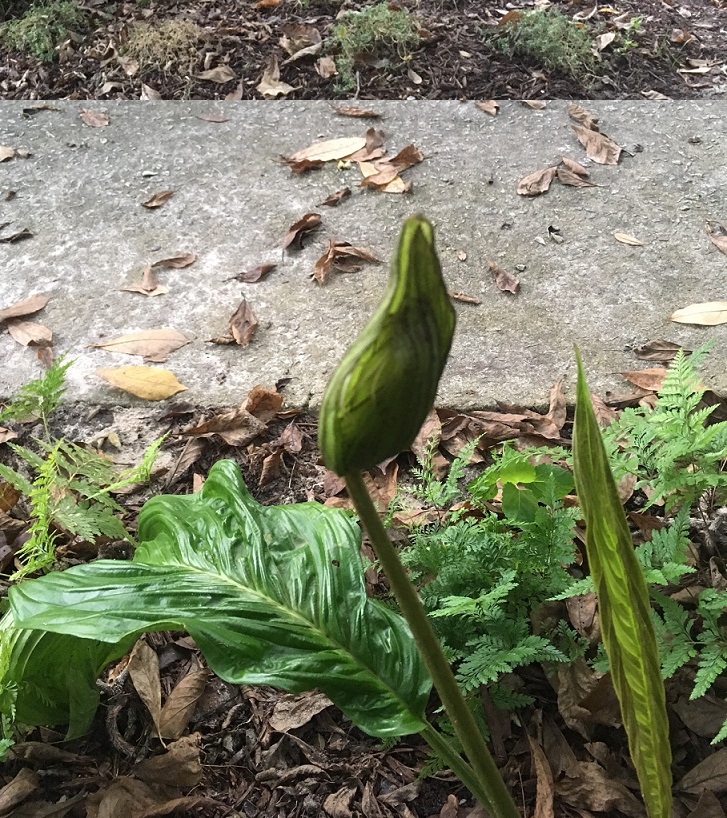 My first inclination was to take a picture each day of the bud until it opened. I thought this would be a great way to document this head-turner of a plant along its journey to flowering. It is slightly over a week later, and the flower is now fully open. This process I have dubbed Tacca Watch '18. And yes, this is really how I have been referring to it.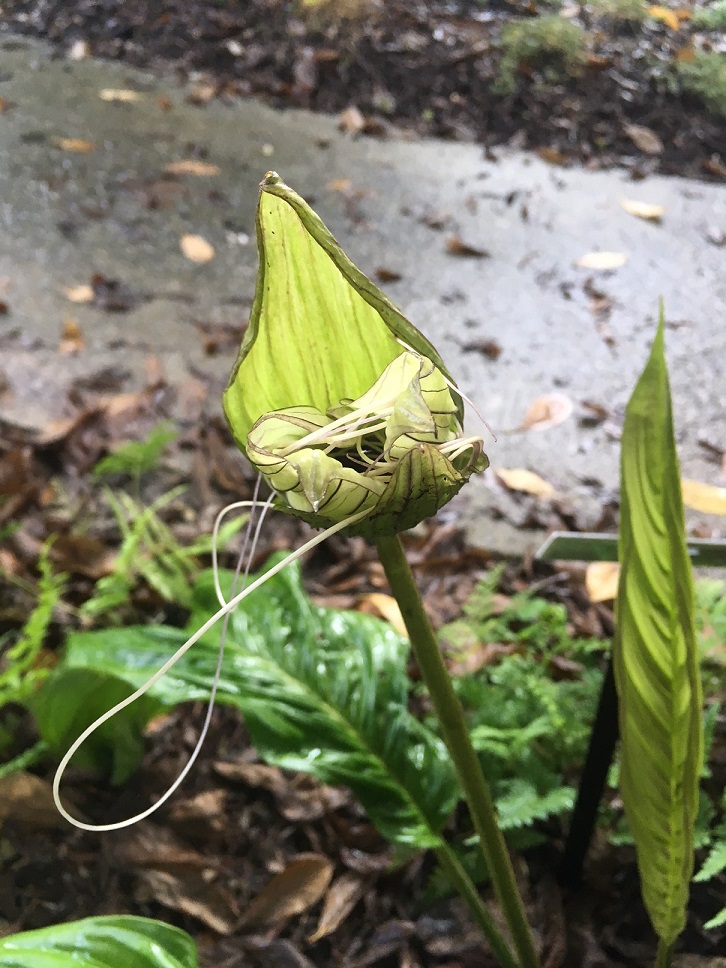 I will spare you the pictures where the bud only looks slightly different from day to day, and go for the highlights, where you can really see the progression, such as in the picture above showing the bud at day three. Following each progression image, I will share some information about this truly cool plant.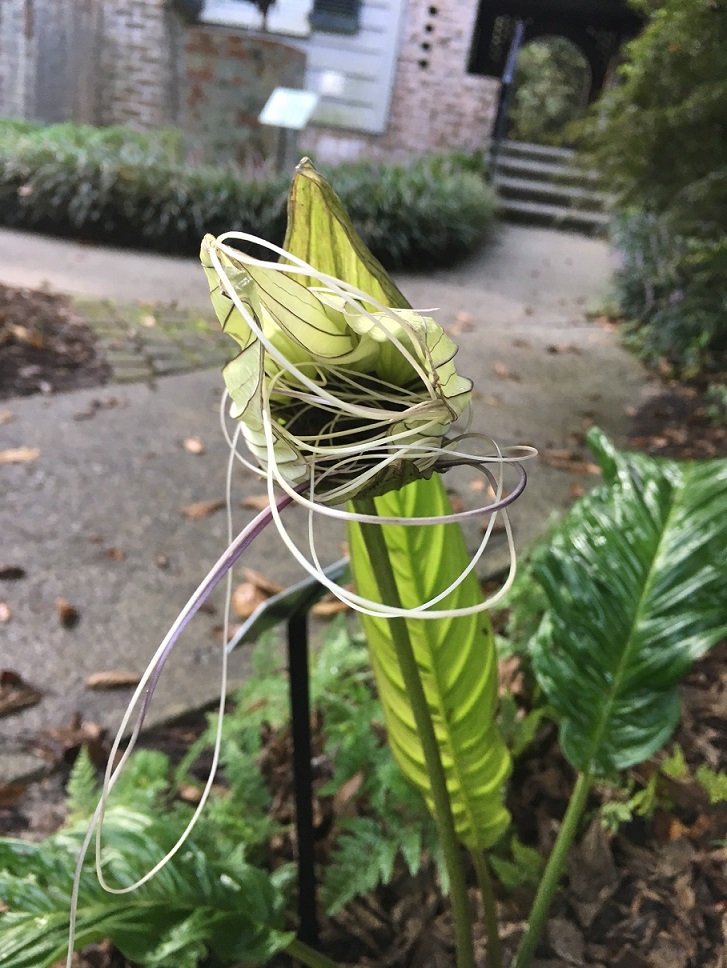 Pictured above is day five of the bud's progression. Tacca integrifolia is a tropical plant coming from the rainforest that grows well in part to full shade, with a moist, but not soggy, soil. They also appreciate being fertilized and enjoy our humidity here in the South.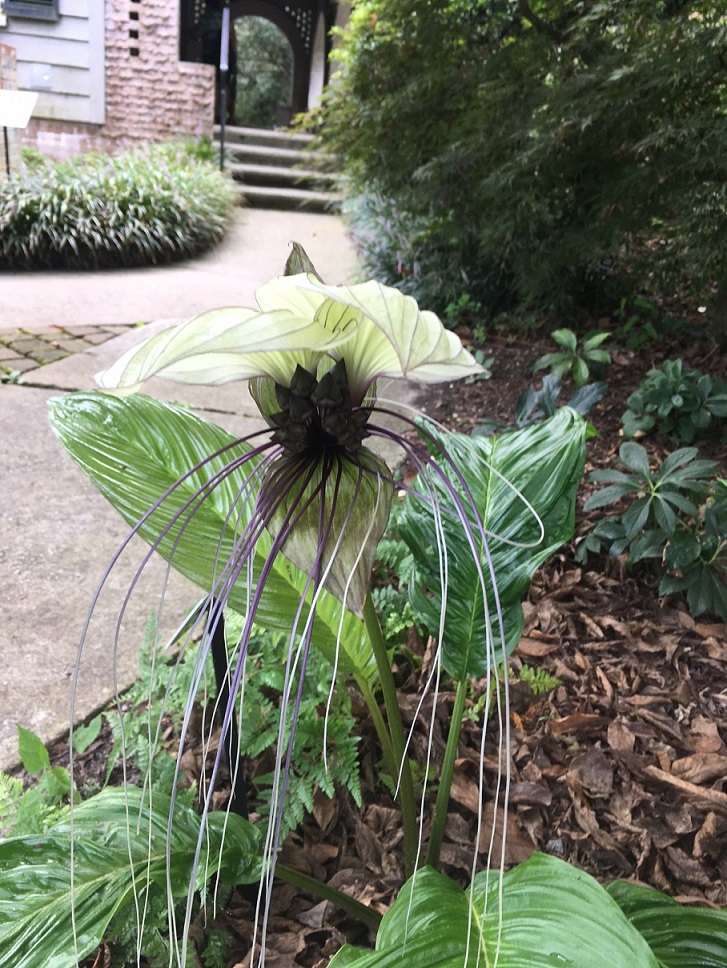 At day seven, we are starting to see some more noticeable changes! Believe it or not, these large white "petal" structures are not in fact the flower, or petals, but bracts. Bracts are ornamental leaves that often appear to look like flower petals, and you have likely seen them before in Poinsettias.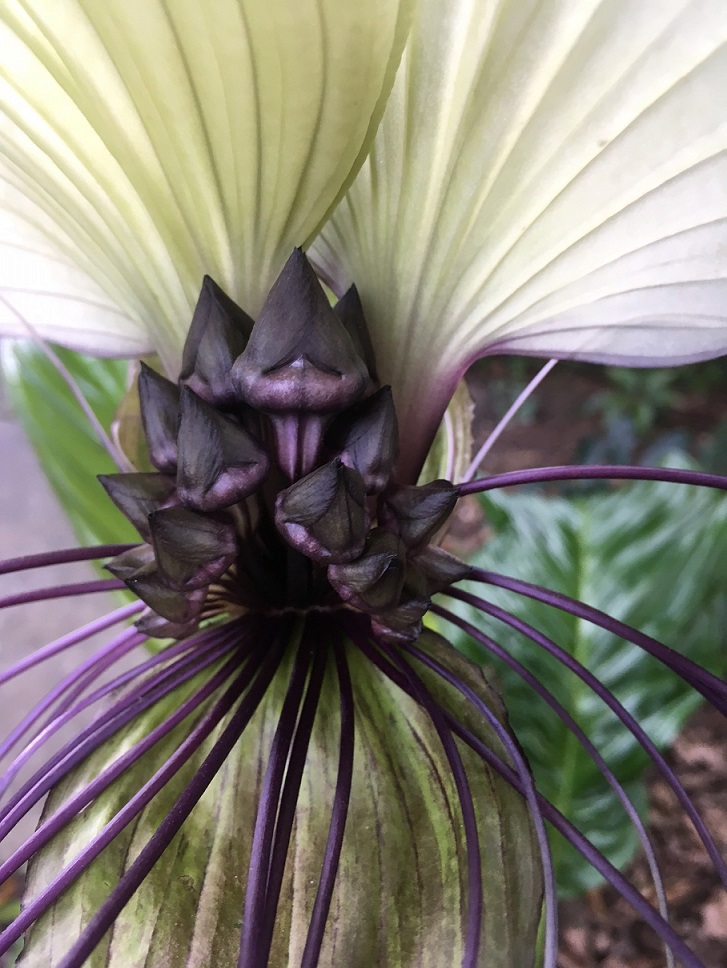 The purple colored, cone-like structures are what will become the true flowers. What you see pictured are the true flower buds.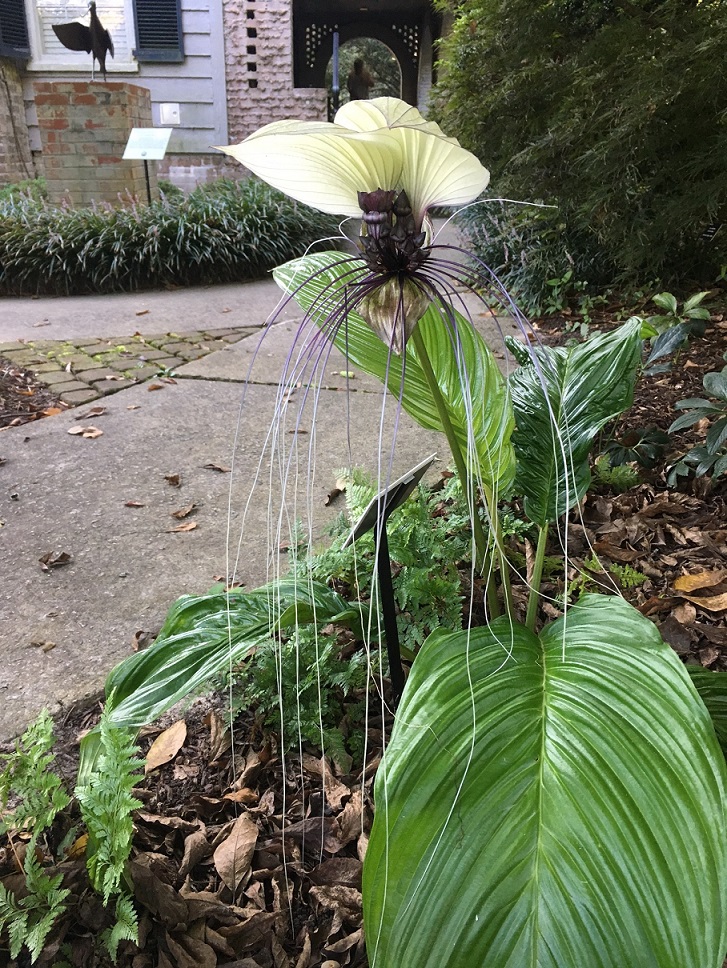 One thing is for sure, this plant is unique and certainly attention grabbing. On your next trip to Brookgreen Gardens, drop by the Upper Right Wing, right outside the Brown Sculpture Court porch, to see this White Batflower in flower. If you miss it, don't fret, check out our other specimen planted in a pot in the Upper Left Wing, outside the door to the Offner Sculpture Learning and Research Center. This one is a few days behind our plant in the Upper Right, but it no doubt will start us back in to Tacca Watch '18, round two!
See you in the gardens!
Lucy Contreras, Horticulturist
Hours
Hours: 9:30 AM - 5:00 PM - Nov 27 - 29, Dec 4, 5, 11, 12, 18 - 24, 26
On days of Nights of a Thousand Candles, we are open for the event only 4:00 pm - 9:00 pm
Closed Christmas Day
For their safety and the safety of our animal collection, pets are not allowed, nor can they be left in vehicles inside Brookgreen. Service animals that have received special training to assist disabled persons are welcome.
Tickets
Daily General Admission Tickets for 7 consecutive days
Children 3 and under: Free
Children 4-12: $12
Adults 13-64: $22
Seniors 65 & Over: $20
STAY CONNECTED WITH BROOKGREEN!