Okay, I'm going to give you a minute to pinch yourself so you know you're not dreaming (although for some of you, you may find this to be more of a nightmare scenario). Alright? You're good? Your eyes do not deceive you and you are not asleep… I'm back! Lucy, the horticulture blogger returns!!
Now, the burning question that, without a doubt, I know has been on all of your minds – Where have I been? First off, I'll try not to be offended that we didn't get a flood of emails and social media questions asking about me, but I'll still choose to believe that you took my absence to heart. Regardless, to answer your question, I have been working on our new plant records database!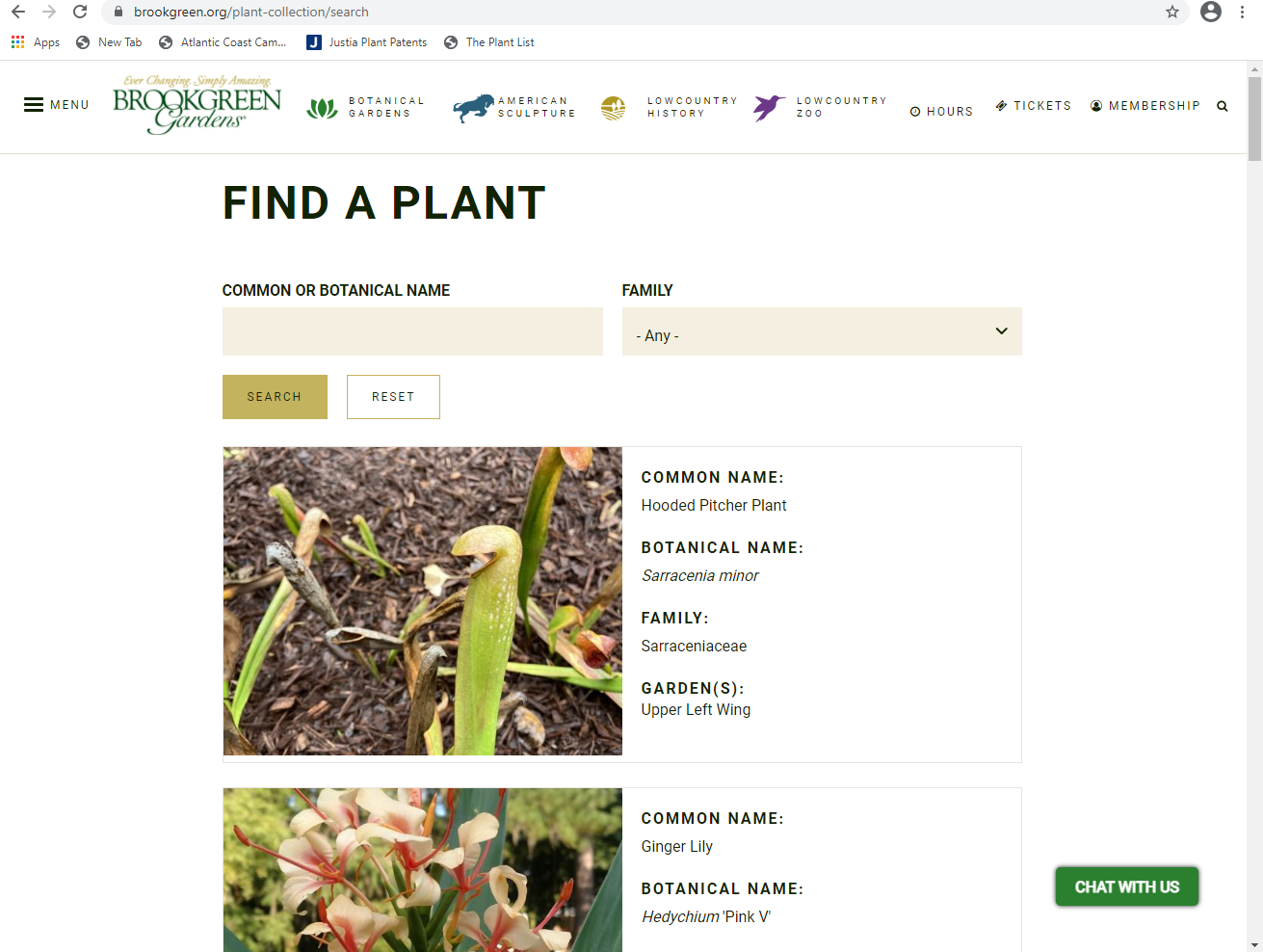 So, what is a plant records database, you may ask? It is a powerful resource that can do so much for both the Horticulture Department and for you guys – our volunteers, our members, and the general public!
At its core, it is exactly what it sounds like: a database for all of our plant records here at Brookgreen. While we have had one for quite some time, it was not one we shared with the public. But, between friends, here's what the previous one looked like.
While our previous system was pertinent for keeping our records straight, like when, where, and how many of a plant were planted, it was not something we could share with all of you. Part of what makes Brookgreen so amazing, is our wonderful plant collection, and we wanted everyone to be able to have access to it, especially after a year like 2020 where so many of our guests could not be here to join us in person.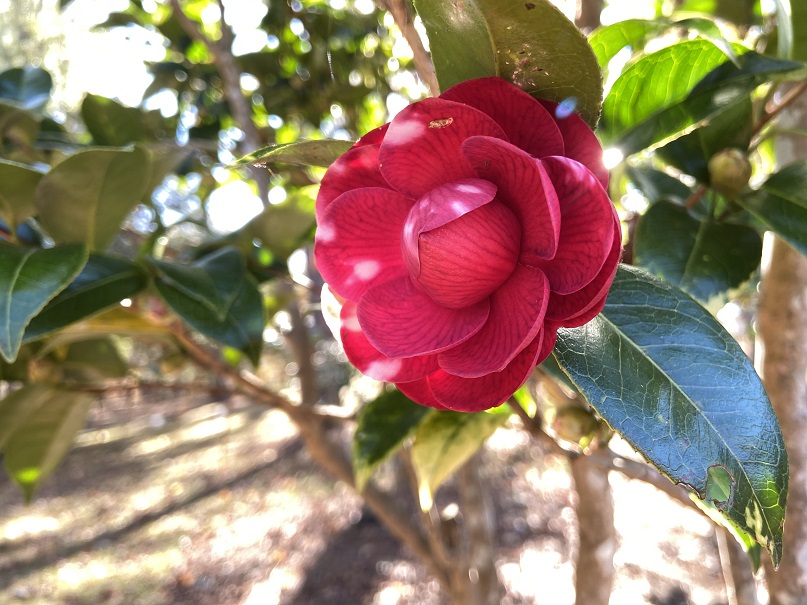 After receiving some generous grants from the Stanley Smith Horticultural Trust, we were able to commission a very brainy (and far more computer literate than I) company called BackOffice Thinking to develop a new database for us. Once they heard our needs and ideas, they set to work crafting the user-friendly database we are now working with.
Once our new database was ready to go, I went back to check our existing information and make sure everything was up to date. About two months and close to two thousand unique plants later, I felt pretty good I had our data cleaned up and accurate.
Not only does our database have a lot of helpful information, it also has pictures! This was something that our old database was lacking. While this is an exciting and very helpful feature, it is an ongoing process to get all of the images we need. Since plants change so much throughout the seasons, it makes getting a complete seasonal catalog a long process, but one well worth the effort! Additionally, to make our database as useful as possible, we're trying to make sure we get as much helpful data as possible. This means you'll see pictures of flowers, as well as some seemingly odd images, like pictures of bark. Believe it or not, some bark is pretty attractive while other bark looks like well… boring ol' bark! Regardless of its aesthetic qualities, bark can be a helpful tool when identifying a plant. Take for instance the varying characteristics of the crape myrtle and Japanese camellia below.

So how do you use the database? It's really quite simple. Using the search bar for common or botanical name, type in what you're looking for. To help narrow down your search, try to keep it brief, or use parts of the name if you know it. For instance, if you type in "Rose" you will get a list of our roses, but you will also pull up any plant that has the word "Rose" in its name. You can use the Family drop down tab to help limit your options, if you know the taxonomical family your desired plant is in. However, you may find it quicker to type in "Drift" if you are looking for Drift Roses to help limit your search results.

Once you find the plant you're looking for, click on its picture (or the icon, if we haven't gotten there yet) to learn more. My example plant is going to be a yaupon [holly] that is unique to our collection and history, Ilex vomitoria 'Yawkey'.  To quicken my search I only typed in "Yawkey", because including "Holly" or "Ilex" would have yielded many more results. Upon clicking to the page, you are greeted with its botanical name, common name, family and an image.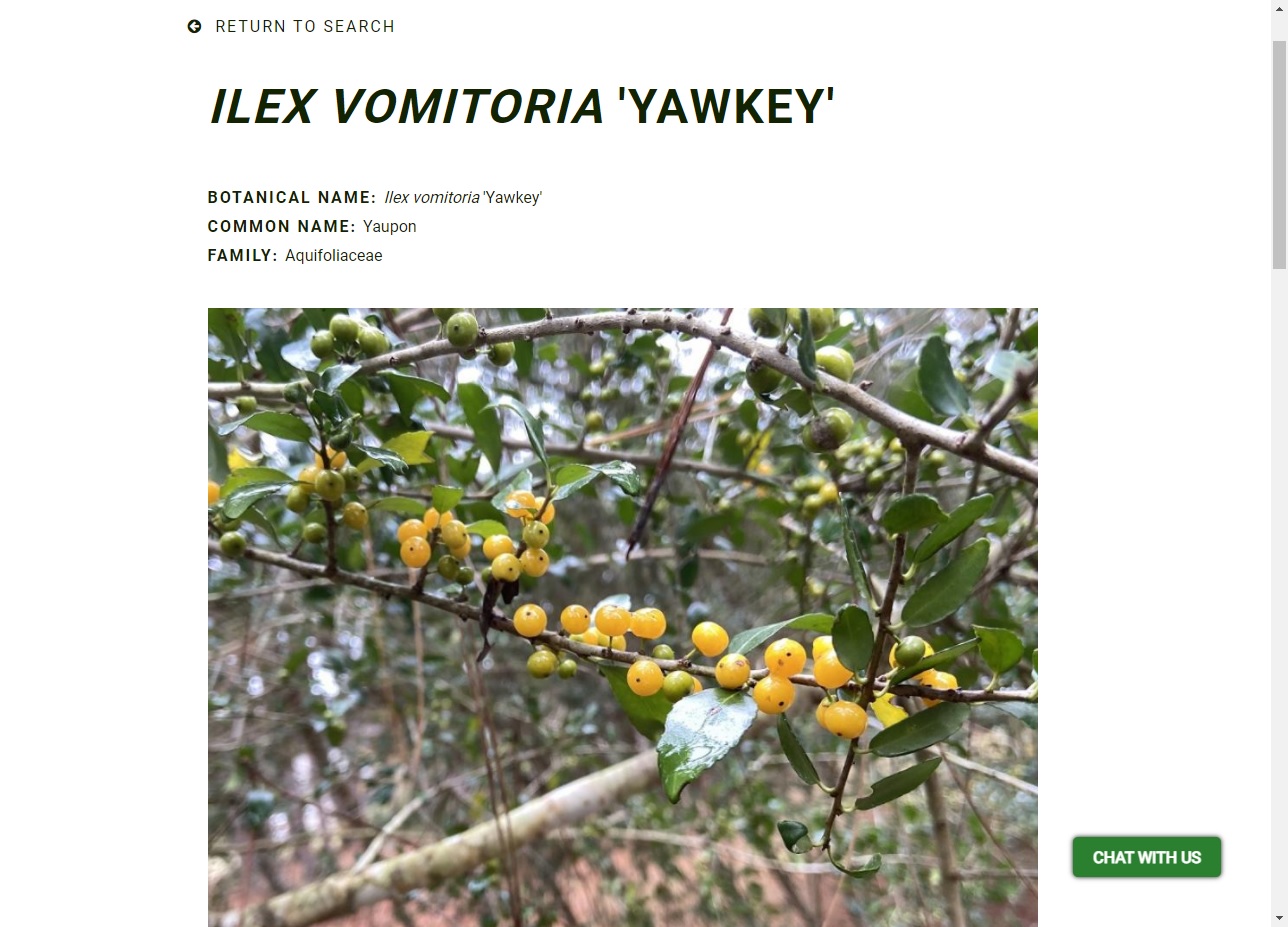 If you keep scrolling, you will see additional information we have provided about the plant. In the case of the Ilex vomitoria 'Yawkey', it is unique to Brookgreen. F.G. Tarbox, a former director of Brookgreen and horticulturist before that, was responsible for bringing it to Brookgreen and wrote about it in one of his publications.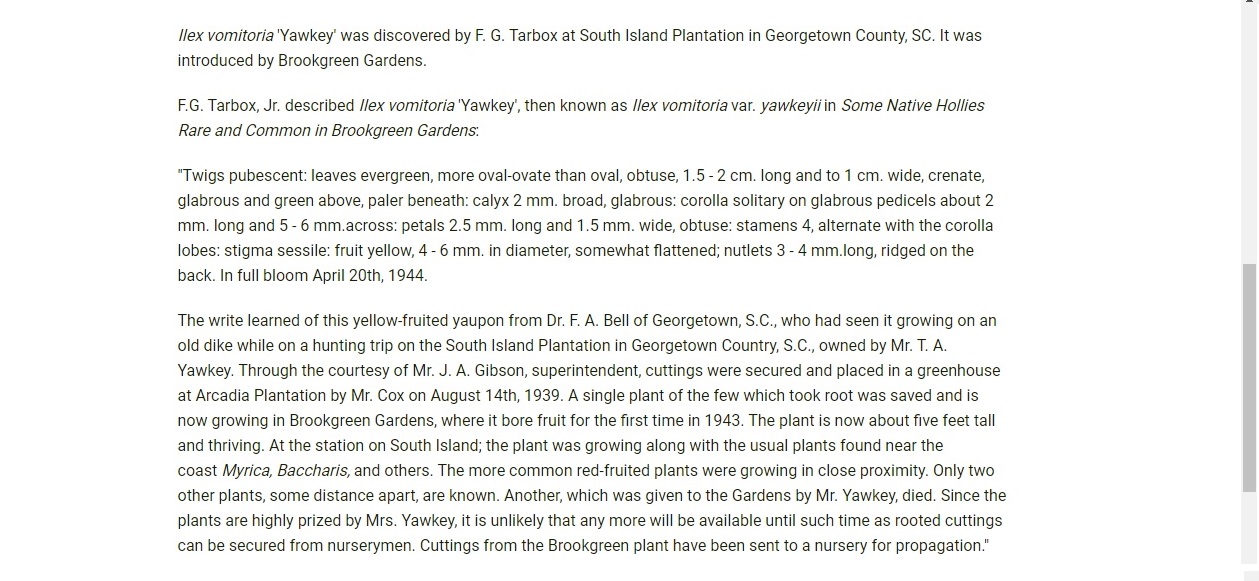 The "Research" box is next. This box has basic information about the plant, such as whether it is evergreen or deciduous; annual, perennial, or biennial; hardy or tender and more.

Finally, we have more pictures! You can toggle through the gallery where you can see what images we have of the plants in our collection, with handy captions underneath to better understand what we are illustrating.
 
We are constantly updating our database to reflect new images, new plants, and changes in information. As we continue to work towards adding more content, you can keep checking back to see what's new in our collection, or if we have provided any additional information or images to plants you've already checked out. Be sure to check out our database to learn even more about our plants and our collection!
See you in the Gardens!