It seems like the arboretum at Brookgreen Gardens keeps getting itself into something new. Last summer it was adorned with fiber optic lights when it was transformed into the Field of Lights during the Bruce Munro at Brookgreen: Southern Light exhibit. This year we have something else planned…
Portions of the arboretum are being altered once again. This time though, we're going wild - wildflowers that is! Nestled among the stately trees that call our arboretum home will also be prepared swaths of wildflowers.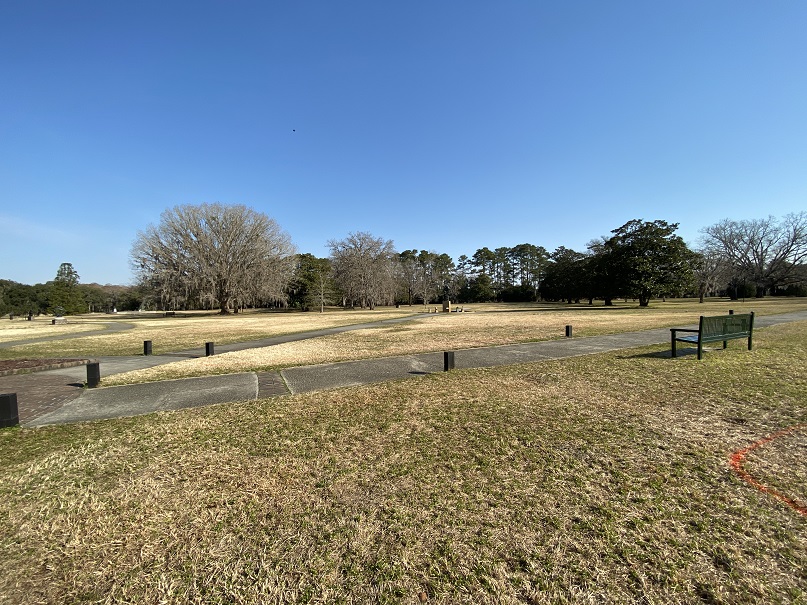 Before we jump right in to all the juicy details, let's take a moment to appreciate what the arboretum was like before its big transformation. I'm a sucker for "before pictures" and find them to be so fun when you see how much a space has changed. As you can see above, the arboretum consists mostly of turf and established trees. Soon, however, it will become an even bigger feast for the eyes, and hopefully for the bees too!
Since the arboretum bed space was mostly turf, a change needed to be made. Isaiah Nettles, a member of our landscape staff, got to work using a disc harrow attached to the back of his mower. This tool helped to cut the grass and flip it over, exposing the soil underneath. This was a very important step, as the seeds would need to make contact with soil in order to germinate.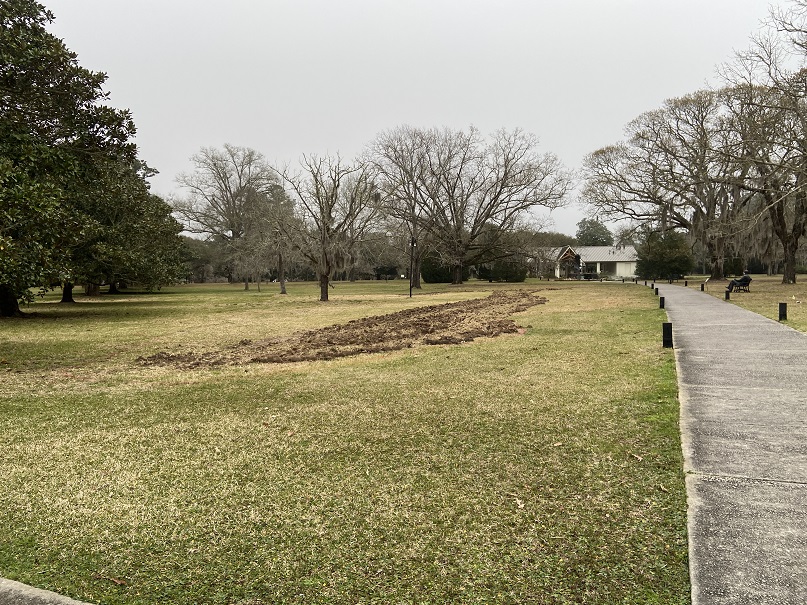 Even though the bed spaces looked a little unruly, it was all part of the plan and a necessary step to help us achieve our goal. Once the site preparation was almost complete, we had one final, critical step ahead of us - removing the thatch!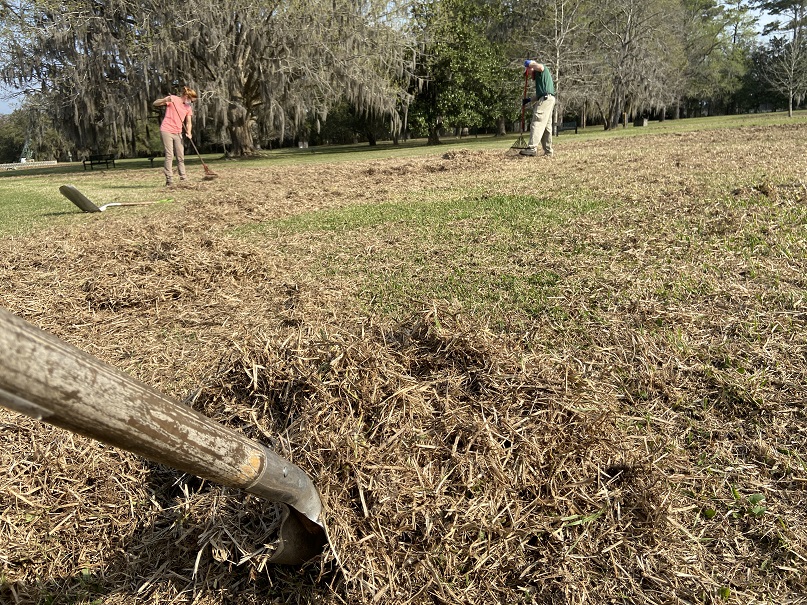 Thatch is an accumulation of organic matter on the surface of the soil. In our case, it was the remains of grass that had been cut after the Field of Lights exhibit was removed. Part of our protocol during the exhibit was to let the area grow naturally. After the exhibit was removed, and the turf was cut in the winter, there was a lot of thatch remaining. In order to have that seed-to-soil contact we were talking about, we had to remove the thatch blocking our way.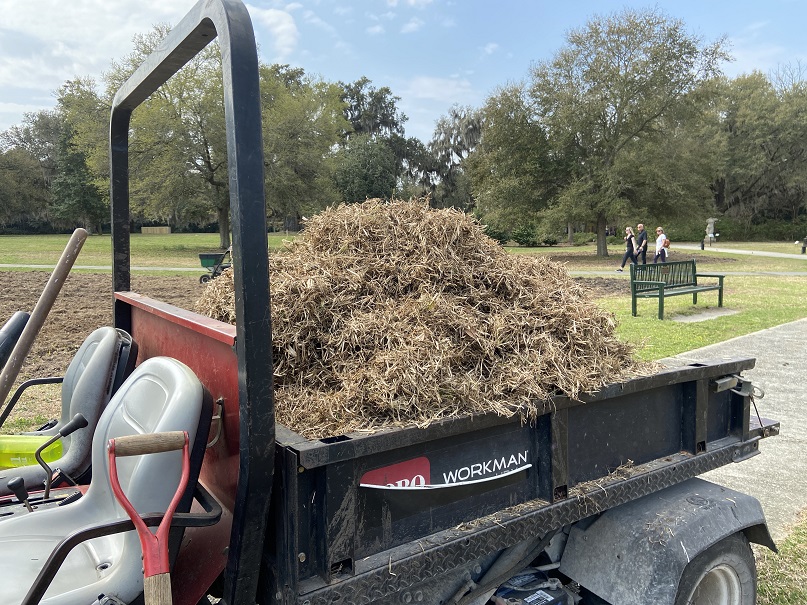 As someone removing the thatch, I was shocked by how much there was! As you can see above, that was one of at least four or five cart loads of thatch we hauled away! It almost looks like an early Halloween hay ride!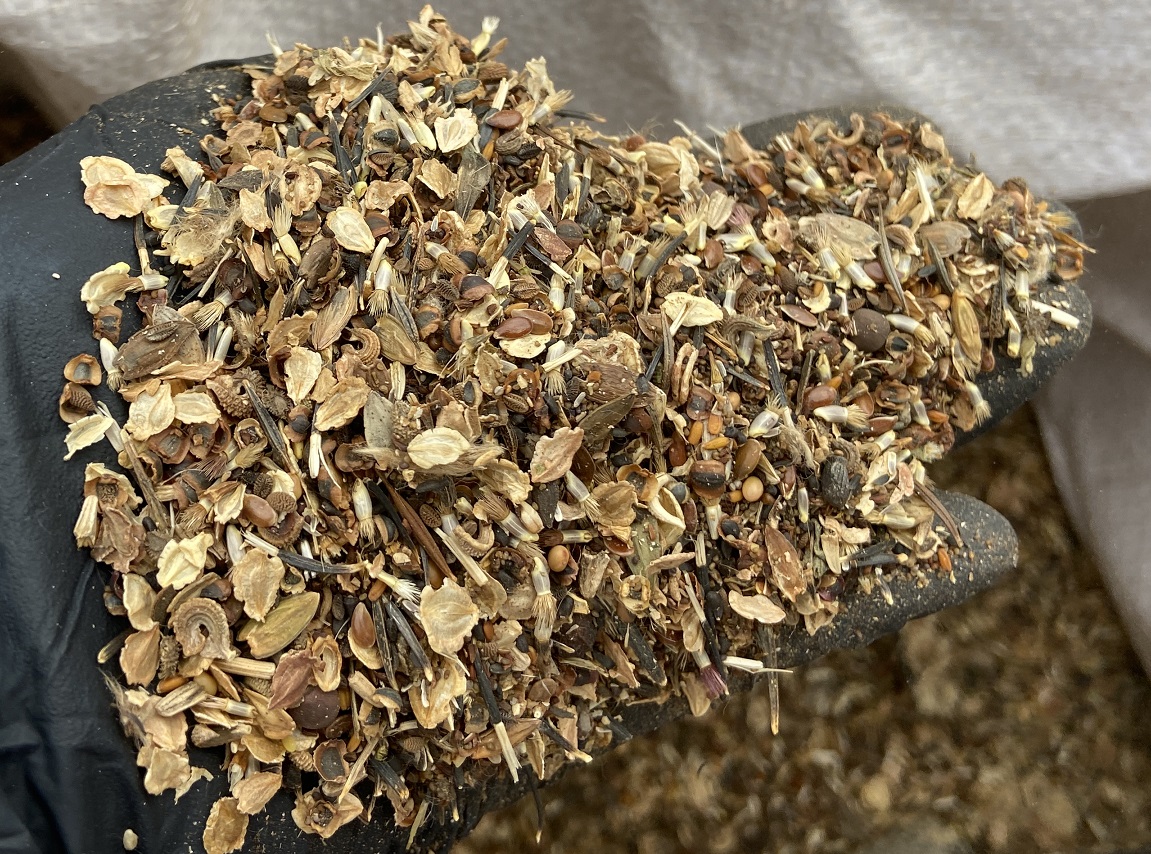 Once our sites were prepped, it was time to get the seeds ready. In order to allow our seeds to be spread widely enough throughout our bed areas, we mixed them with sand. This would allow an easy way to disperse them, without throwing too many seeds down and running out before we had finished.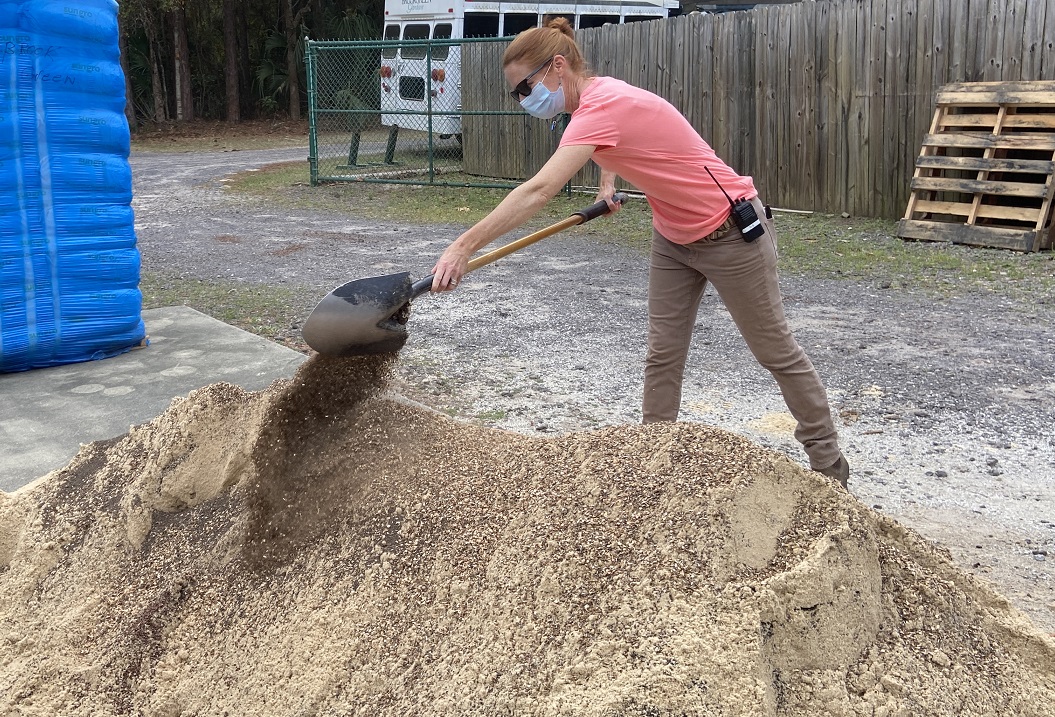 With about fifty pounds of seeds, and a whole lot of sand, we began to incorporate the two. Katherine Rowe, Director of Horticulture, is pictured above adding shovelfuls of seed to a large pile of sand. Once the seeds were added, it was time to mix.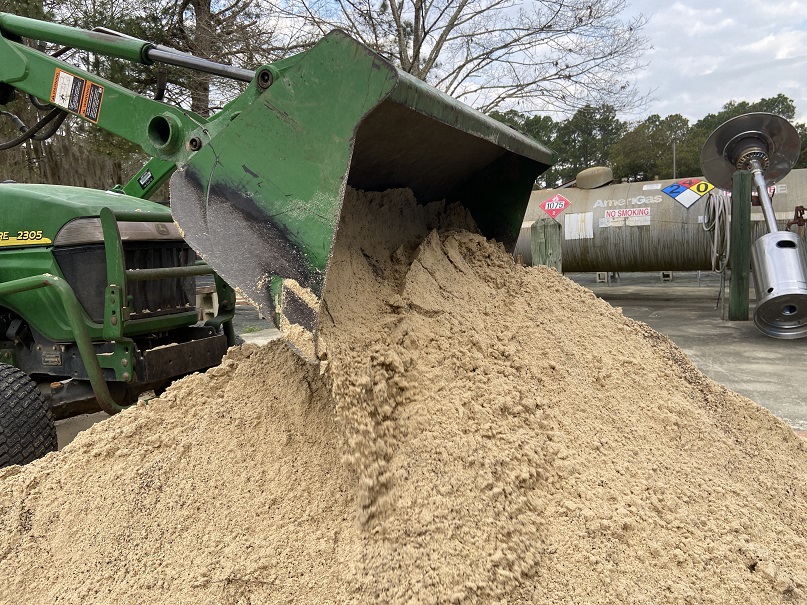 With the help of Cheney Taylor, one of our horticulturists, the seeds and sand were mixed together. We began this process first by mixing the sand and seed with a shovel. Fortunately for us, Cheney's talents on the tractor saved us a lot of time and resulted in an even mix throughout.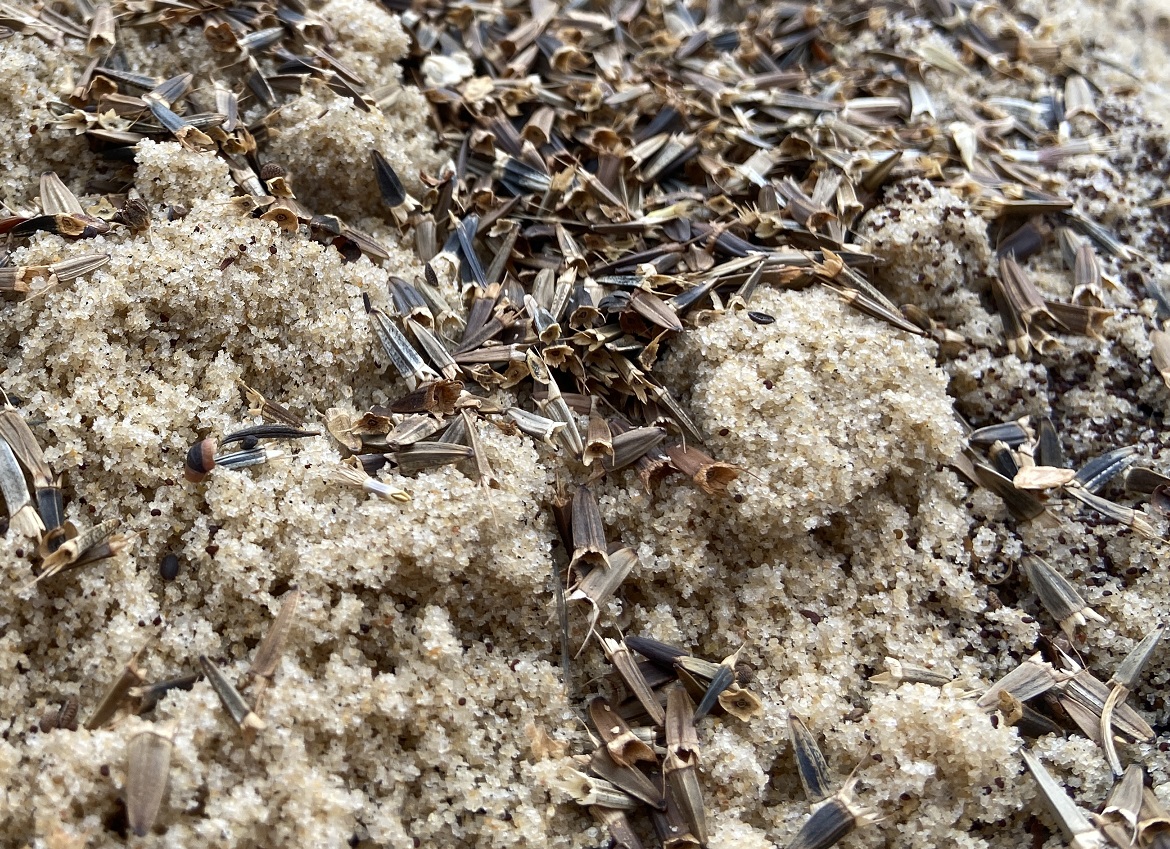 Once we were ready to go, it was time to sow the wildflower seeds! Using our hands, buckets, and even our work carts, we carried the seeds throughout the arboretum beds and dispersed them. As we went along, we all developed our own methods for making sure we were covering the beds and not missing a spot.

The sand was not only good for allowing easier spread of the seeds, but also for helping us to see where we had already spread. While the patches of sand throughout the beds were subtle, they were still a helpful indicator of spots we may have missed, and areas in need of greater coverage.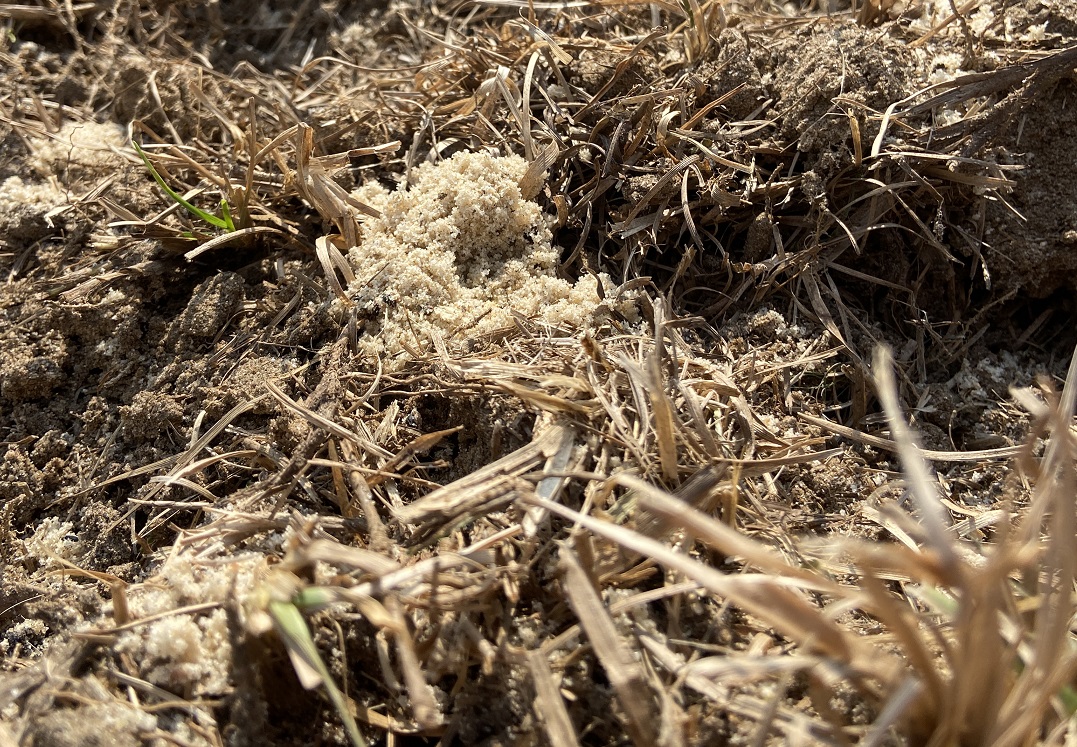 Once the seeds were down, we rounded out this project in the same way we conclude many others: watering it in! With seeds, it's a waiting game until they germinate and we can see the fruits (but more so flowers!) of our labor.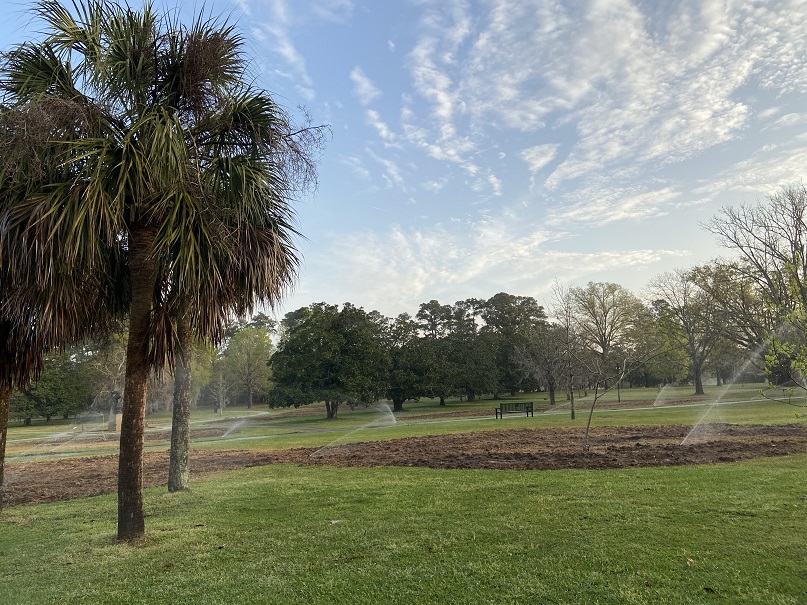 So what do you have to look forward to when you come to visit us and our new fields of wildflowers? Our mix contained spider flower (Cleome), zinnia (Zinnia elegans), lanceleaf tickseed (Coreopsis lanceolata), purple coneflower (Echinacea purpurea), and African marigold (Tagetes erecta), to name just a few. If you don't often visit the arboretum, this is a wonderful reason to drop in and see how our windflowers are progressing, or even to appreciate the beauty and serenity of the space.
See you in the gardens!