This is the time of year when I am greeted by visitors asking me where all the flowers are. Although I look around and see plants in flower, I know what they mean. Where are the vibrant swaths of colors nearly busting out of their beds? Where are the large displays that come to mind when you think of a visit to Brookgreen? Often, these images we conjure up are those of our warm season plantings.
While you may revel in the beauty of Brookgreen Gardens in the summer, a visit to Brookgreen in the winter is a must. Sure, we have some high-impact displays in the winter in a number of our gardens, but we also have botanical interests not to be missed. Why not make a day of it and use this list as a guide to a scavenger hunt; can you find all of these plants on your next visit to Brookgreen?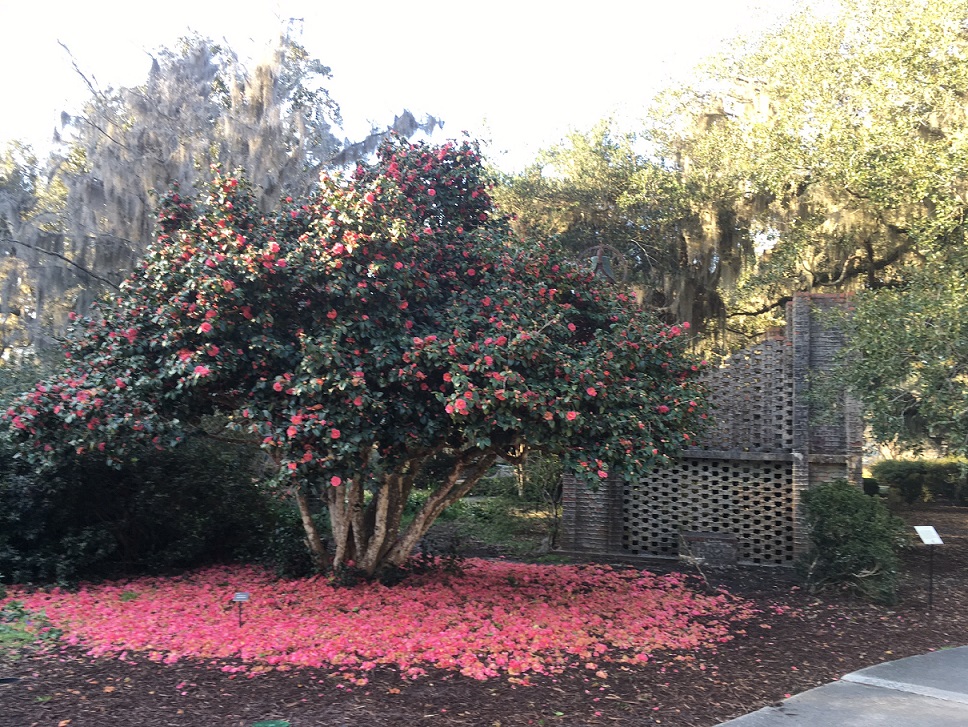 As a southern garden, where would we be without a Camellia collection? This time of year, Camellia japonica (Japanese camellia) are putting on quite a show. A stroll through the Brookgreen Camellia Walk will allow you the highest concentration of all-you-can-see Camellias, but don't forget to visit them throughout the rest of our Sculpture Gardens.
You can't think of Brookgreen Gardens and not think about azaleas, especially this time of year. Although still a bit early in most places around the gardens, the azaleas are slowly starting to flower. Various cultivars and species around the gardens are beginning to wake up and share some of their color with us. I expect in another two to three weeks to be at our azalea peak. We'll just have to see if Mother Nature has other plans!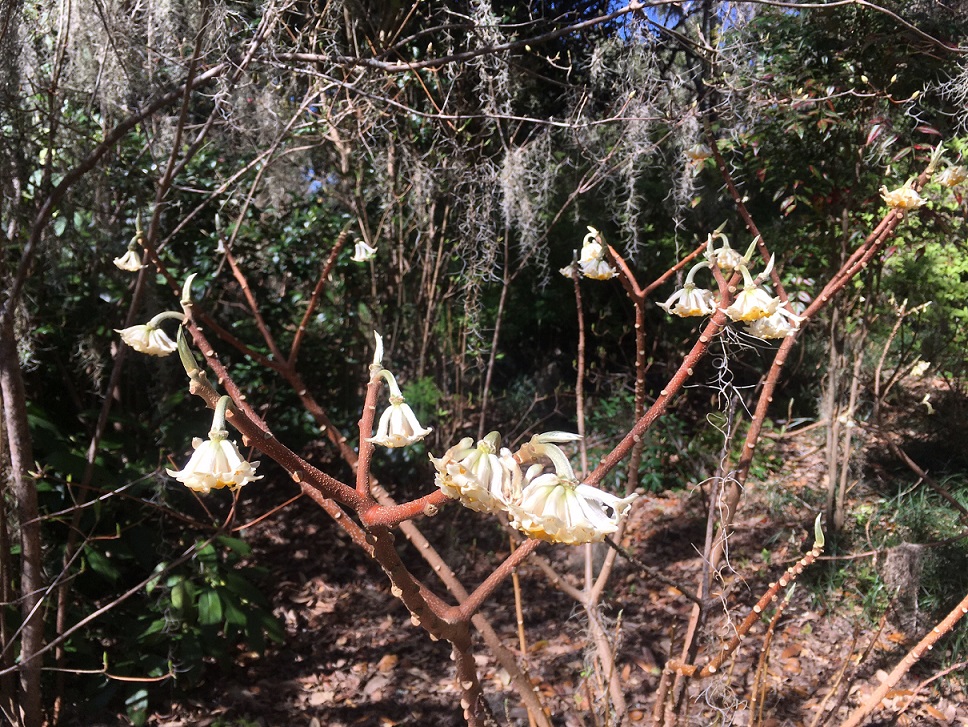 I would be amiss if I did not include Edgeworthia chrysantha (Paperbush) to this list. Paperbush is a funky looking shrub that you can catch in the Lower Left Wing. The flowers hang down, almost like chandeliers, at the tips of the stems. While they may not be the most beautiful flower in the world, they certainly are a novelty to see (and smell!).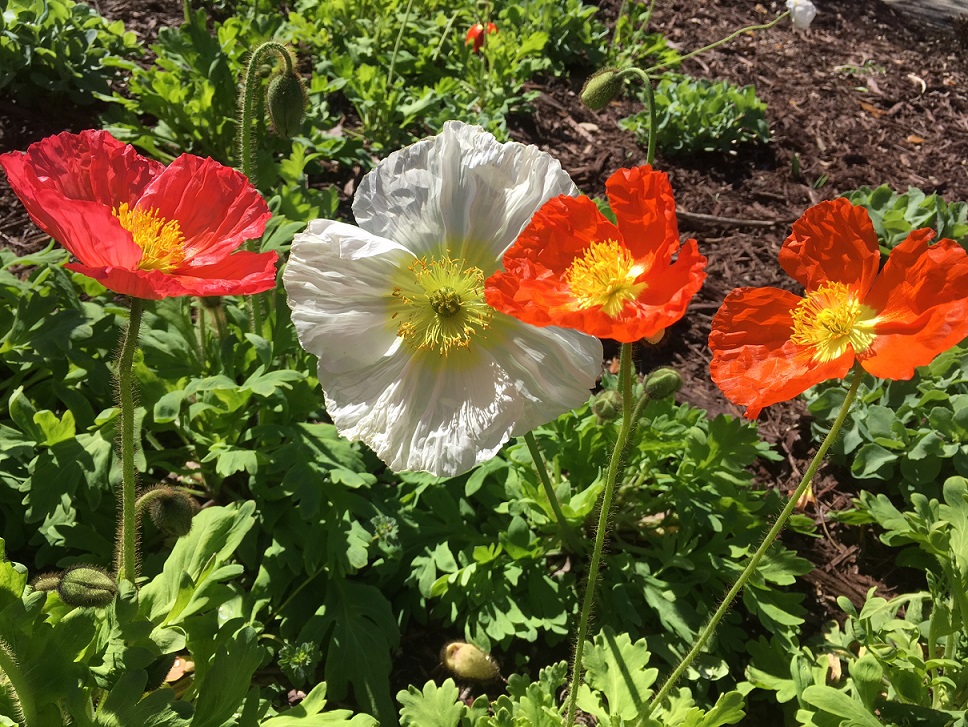 Papaver nudicaule (Iceland Poppy) is one of our commonly planted cool season annuals. A cultivar we commonly use is 'Champagne Bubbles.' A walk through the gardens will turn these up in the Palmetto Garden and Upper Right Wing.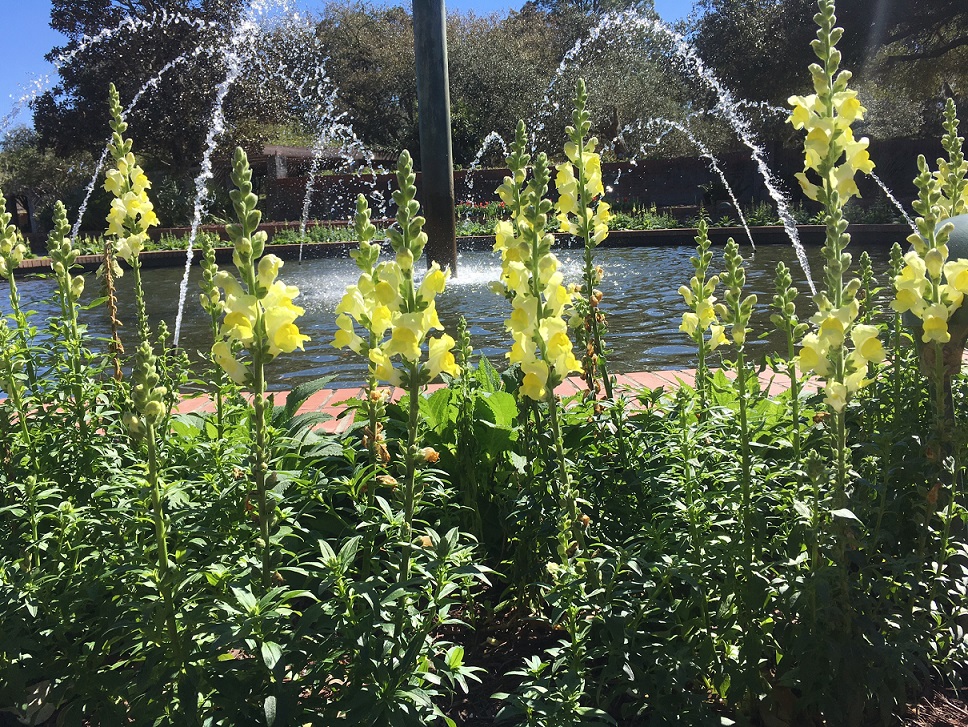 Another common cool season plant? Snapdragons! Antirrhinum majus (Snapdragons) are beginning to flower too. You can catch them around Saint-Gaudens' Diana and in the Brown Sculpture Court, to name a few hot spots.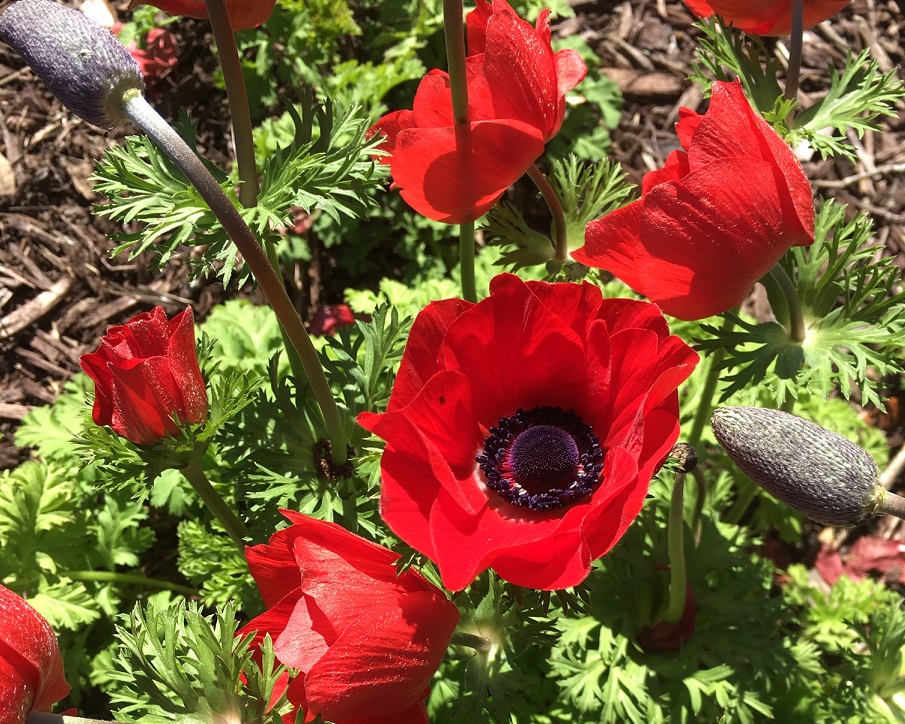 One of my favorites – Anemone coronaria. A few years ago, in May, I planted these in the Poetry Garden. The warm weather made them fizzle down to nothing and I was sure they had died. When the cooler weather returned in autumn of that year, they made their comeback and I was amazed! These anemones are always a delight, so much so that I intend to add more in the future. My recommendation? Plant them in the fall to enjoy winter blooms.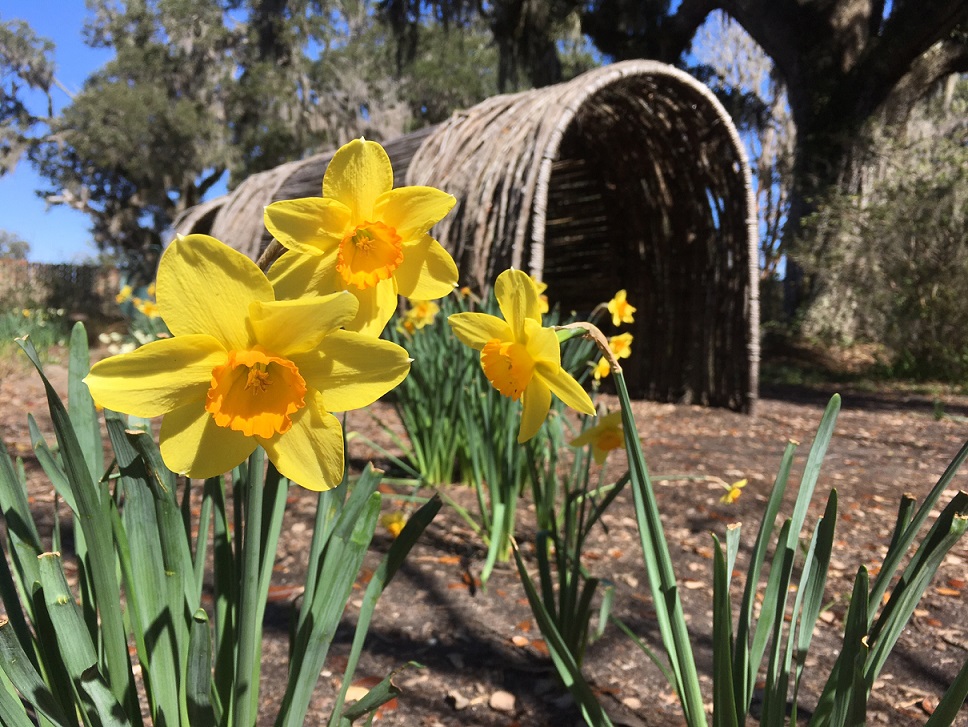 Narcissus, or daffodils, are a wonderful part of the gardens. You can see them lighting up the Children's Garden, Oak Allée and most of Brookgreen! As bulbs, these are best planted in the fall. Many will come up year after year, but be sure to let the foliage die back on its own. The leaves will continue to photosynthesize, thereby feeding the bulb, so you can enjoy more daffodils in the years to come.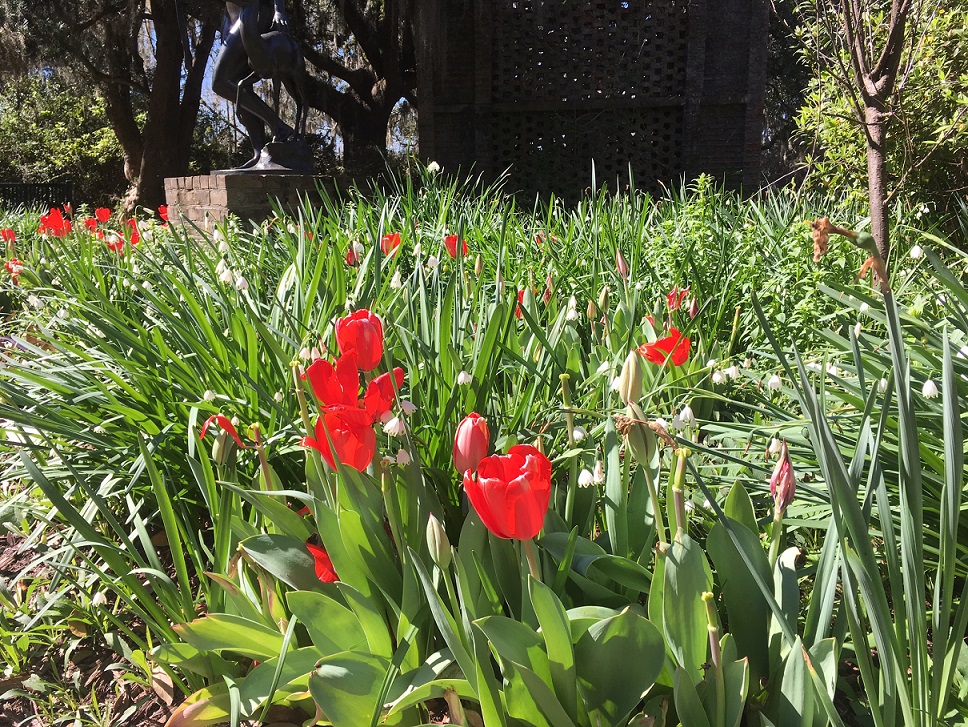 Keep an eye out for another bulb: tulips (Tulipa). You can start to see these popping up around the Old Kitchen and the Upper Left Wing, with more on their way elsewhere. In our area, tulips often do not reflower in the following years and for that reason, we treat them as annuals. Also, beware of wayward squirrels out for a snack or a little re-gardening of their own!
It's almost like walking down a path lined in sprinkles! Crocus are emerging and busting into flower. These little delights are emerging along the walk in the Upper Right Wing, dotting your way through the gardens. A fun crocus fact: Crocus sativus, a different species than what we are growing, is the plant from which saffron, a very expensive spice, is derived.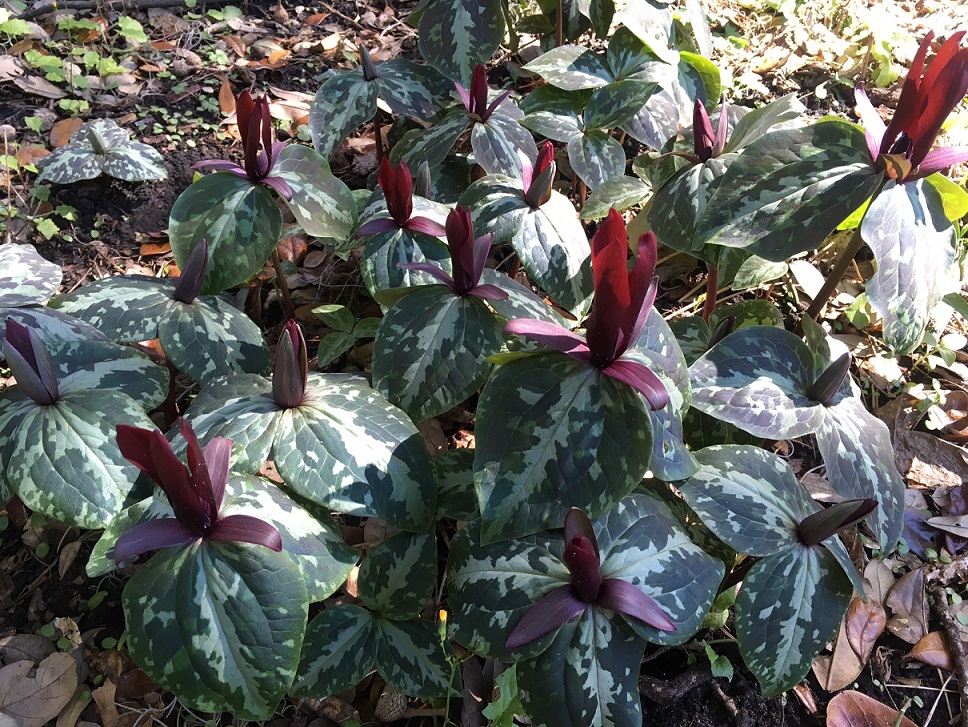 Trillium is a great woodland plant. Naturally, it is calling the Lower Left Wing home. This planting is nestled under one of the Live Oaks within the garden. It is always such a delight to see these popping up. Like many of the plants in this post, they only grace our garden for a brief time before they retreat from the heat of the summer.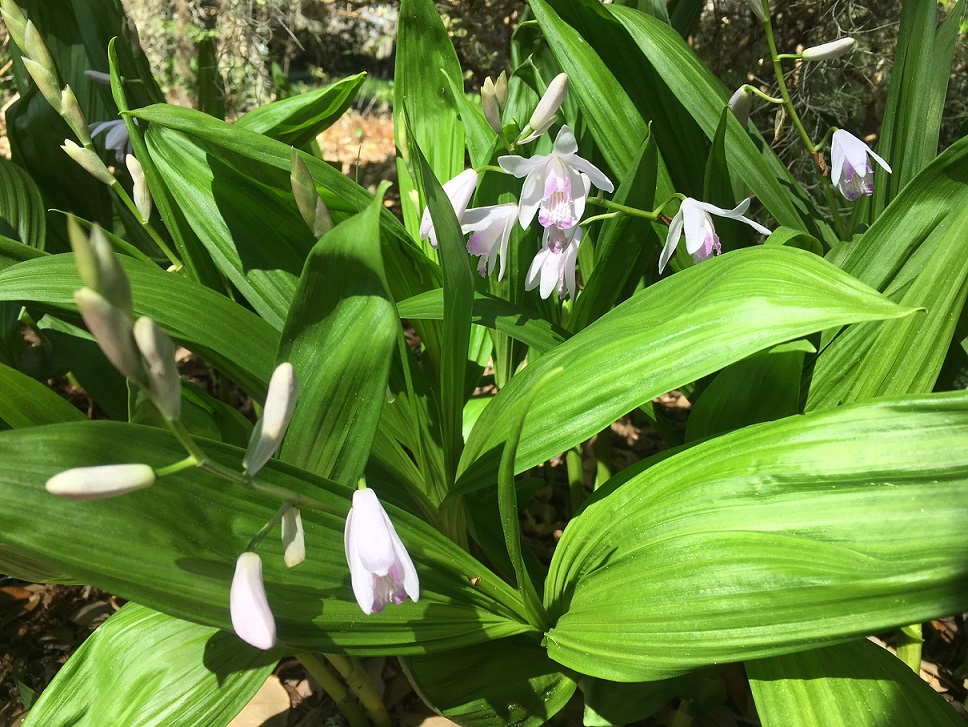 When I see this growing around the gardens, my first thought is "Another palm has seeded itself!" The foliage is a bit deceiving, as this is none other than Bletilla striata 'Albostriata,' or Chinese ground orchid. The Lower Left Wing has a wonderful clump that is in flower now.
The list could go on. There is so much to see at Brookgreen Gardens during this time of year, beyond this list. Now is when you get to see more of the interesting, off-the-beaten-path plants, that make our collection so special. If you have an opportunity to join us, take a visit to Brookgreen and explore some of our more unique collection, while also appreciating some classic favorites.
See you in the gardens!