I am pleased to share that Hal Holmes received Brookgreen's 2018 John Rainey Philanthropy Award. The award was presented at the Huntington Society dinner on October 12. The dinner recognizes donors and their support for the innovative and impactful programs, and exhibits that support Brookgreen's mission.  Hal's inspirational remarks follow, highlighting his personal connection to Brookgreen and to former Trustee John Rainey, for whom the award is named.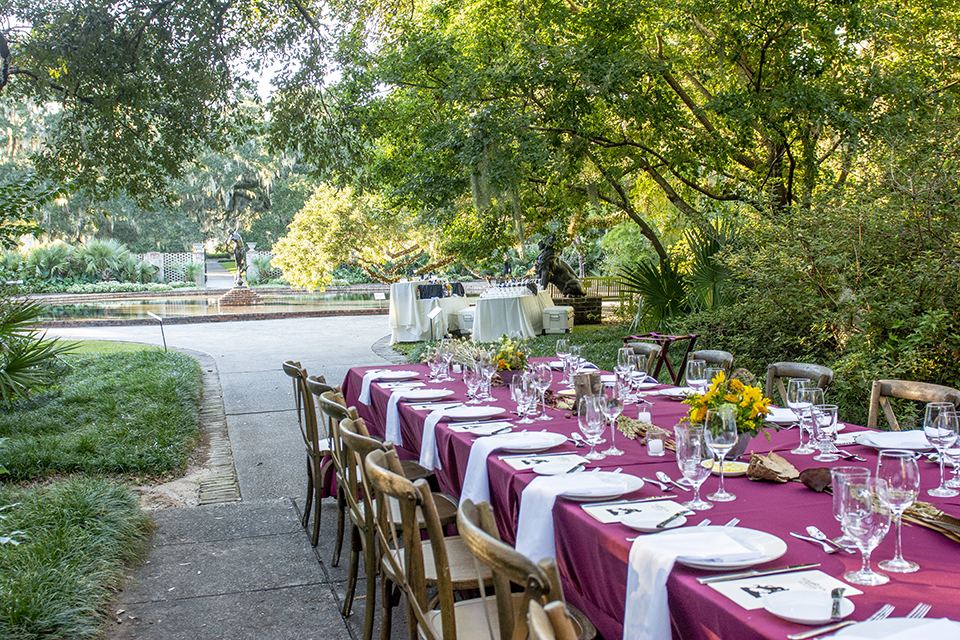 The spectacular setting by the Diana Pool illuminated by hundreds of lights on the live oaks, along with perfect weather and delicious dinner from Austin's, made the experience one of a kind.  The spirit of the event is truly captured in Hal's reflections about Brookgreen's special place is history and the arts. Thank you, Hal!
Hal Holmes remarks October 12, 2018
Thank you very much for your generosity in making me the recipient of the Rainey Philanthropy award.  It is quite an honor indeed.  John was a man of great passions, and foremost among his passions was Brookgreen gardens.  Brookgreen greatly benefited from his philanthropy but even more so from his leadership and example.  John never asked anyone to do anything he hadn't already done.  This made him especially persuasive when he met with the many business and civic leaders of South Carolina and the southeast and solicited their support of Brookgreen, both their financial support and with their time and talents.  He was certainly a dynamic and unforgettable personality.  It is an honor to receive this award that bears his name and represents his commitment.
It is also particularly pleasing to me to be following last years recipient and the first recipient of the Rainey award, my good friend, Dick Rosen.  He also is someone whom I admire and who provides an outstanding example of dedication, commitment, and leadership.  To be included in such company is humbling indeed, and I thank you again.
One of the great pleasures in serving on the Brookgreen board for these years has been the great friendships I have been able to form through this association.  The members of the board of trustees, the staff and management of Brookgreen, the Friends of Brookgreen, the volunteers, and even the artists who have frequently given of themselves to Brookgreen have enriched my life and broadened my horizons immeasurably.  I am grateful for this as well.
Finally and to get to the heart of all of our interests and engagement, I am thankful for Brookgreen Gardens.  It is the site of some of the most important events and culture in the history of our country, a history that must be preserved and told in its fullness and from which there is much to learn.  The preservation and presentation of the native wildlife and domesticated animals from colonial periods onward keeps an important connection to our past and encourages the conservation of these animals.  The glory of the gardens and the native flora of coastal South Carolina which is presented in such breathtaking beauty through all seasons, never fails to lift our spirits and inspire us.  The Huntington's visions to support American figurative sculpture, begun during the difficult times of the Great Depression, surrounds us with magnificent art in beautiful settings, both galleries and gardens, that elevates our souls and reminds us of the heights that we humans can reach, especially needed in times of difficulty or discord.  It demonstrates over and over again the good and the beauty within us.  For this we all can be thankful.
Brookgreen Gardens is certainly worthy cause, deserving of our support, our commitment, and our passions.
Thank you once again for this high honor.