What flowers come to mind when you think of the fall? The classics are typically asters and mums – and for a good reason! They brighten up the landscape with a renewed burst of color as many of the annuals and perennials are laying down their tired heads, waiting for the season to be over and their well-earned rest to be upon them. As best as I can empathize with a plant, I get it. I would be tired, too, if I spent months outside in blazing hot heat, flowering nonstop. It certainly sounds exhausting!
The fall flowers we're going to discuss are far from tired – they're only just getting started! So, what fall flowers can you expect to see on your next trip to Brookgreen? Let's take a look!
Swamp Sunflower (Helianthus angustifolius)
As you may imagine, swamp sunflower is an excellent plant for wet conditions. What may surprise you is that it's pretty versatile and can grow even in drier sites. Our plantings of swamp sunflower are throughout the gardens, including in – you guessed it – our bogs in the Upper Left and Right Wings and along the Daylily Walk. We love how bright and cheerful these flowers are and how they command the space. They can get a bit tall and lanky and tend to require some guidance from our horticulturists to keep them mannerly. 
Are you having a case of déjà vu? You've likely seen these growing in roadside ditches, along with their pal goldenrod. It's much easier to appreciate when you're strolling past it at a leisurely pace versus driving by it at fifty-five miles an hour!
Mexican Bush Sage (Salvia leucantha 'All Purple')
 The soft leaves of Mexican bush sage are attractive even when it's not in flower – plus, who doesn't love the tactile sensation of a fuzzy plant? When it does burst into bloom in the fall, the flowers, covered in small, soft hairs, join the plush leaves! Not exactly what you'd think of when you think of a flower, but if it works, it works!  You can see 'All Purple' (aka 'Midnight') near the swamp sunflowers on the Daylily Walk, the salvia display in the Upper Left Wing, and other spots in the Gardens. 
Short's Goldenrod (Solidago shortii 'Solar Cascade')
Goldenrod can get a bad name. People hear it and make a mad dash for the tissues and antihistamine; sure that it's going to set off their allergies! While goldenrod isn't typically the cause of your sinus woes (that's often ragweed), it is a beautiful fall plant for the garden. I particularly like this cultivar, or cultivated variety, because of its cascading golden flowers, which you can see at the Welcome Center Plaza.
Garden Mum (Chrysanthemum cv.)
Mums are such an exciting part of the fall garden display. I don't know about you, but I love them! We have a few different cultivars with different colored (and shaped!) flowers. With such variety, it's hard not to accessorize your garden with them. You can expect to see 'Mrs. Robinson' with red pom-pom-like flowers throughout the grounds, including at the Fountain Gardens and the Lower Left Wing. 'Miss Gloria's Thanksgiving Day' boasts purple-pink flowers that burst into color just in time for Thanksgiving at the Lowcountry Center and Poetry Garden. The clear yellow flowers of 'Gethsemane Moonlight' brighten up the Gardens in the Lower Left Wing and the Old Kitchen. 'Ryan's Pink' cheerful pink-white flowers are a delight to behold in the Upper Right Wing and Live Oak Allée. With so many mums around, it's hard not to fall in love!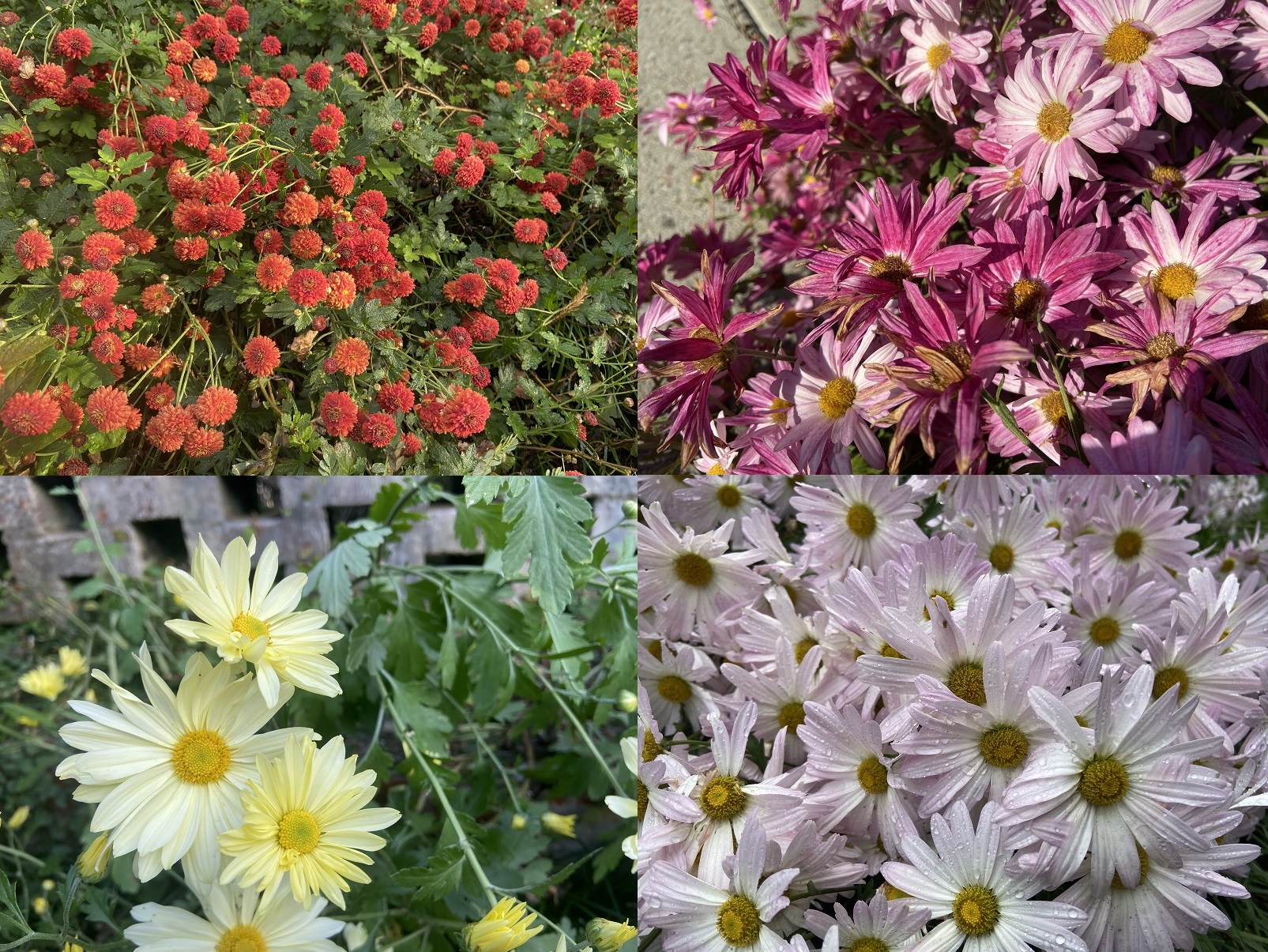 Sasanqua Camellia (Camellia sasanqua cv.)
As hard as it may be to believe, we are seeing our sasanqua camellias beginning to flower! Unlike Japanese camellias (Camellia japonica) that flower in the mid to later winter, the sasanqua camellias are a fall-flowering shrub. 'Cleopatra' outside the Old Kitchen is in bloom now. 'Mine-No-Yuki' in the Children's Garden, at the steps to the Brown Sculpture Court, often flowers during Nights of a Thousand Candles, making an already magical event so much more special as it seems to create snow for us, no matter how warm the weather! The closely related 'Kanjiro' also joins in for the fall show, as seen below, creating a beautiful display around the grounds, including right outside The Visionaries garden.
I know what you're thinking – a trip to Brookgreen Gardens is in order! When you're ever changing, there's always something new to see. Visit us while the weather is crisp and beautiful and the fall flowers are putting on their spectacular show!
See you in the Gardens!