With Thanksgiving nearly upon us, it's hard not to think about all the delicious food that goes hand-in-hand with the holiday. As someone who is food motivated and horticulture obsessed, I naturally connect the dots from the Thanksgiving plate to our gardens here at Brookgreen. Yes, I know, it may seem like quite a leap, but as I said – food-loving horticulturist here! Our cool season displays go perfectly with this mindset of foods that are not only welcome on the dinner table, but also in your garden. Although we don't use a ton of edibles-turned-ornamentals in our warm-season plantings, we have plenty of attractive edibles that enjoy the cooler weather this time of year.
Plants like lettuces, kales, mustards, and even Swiss chard are great additions to the landscape and help to round out our plantings. Let's look at a few of our favorite edibles-turned-ornamentals that you can see on a visit to Brookgreen Gardens over the coming months!
1) Chinese Mustard 'Green Wave' (Brassica juncea 'Green Wave')
We love Chinese mustard for its dense, large foliage that creates a bold, course design in the landscape. 'Green Wave' sports, large green foliage that creates a pop of vibrant color. You can see this growing in the Old Kitchen and Bethea's Garden.
While an excellent addition to the garden, 'Green Wave' requires a little extra maintenance. It tends to bolt or send up flower stems, early in the season. This may sound like a good thing, but in terms of edible plants, it creates an unpleasant taste in the leaves. In addition, bolting on plants grown for their foliage often, and in this case, results in the foliage becoming smaller and unattractive, as the energy of the plant is being put towards flower production. If this happens, simply cut off the flower stem. However, if it's towards the end of the cool growing season, you can let the flowers go and create an early food source for pollinators.
2) Chinese Mustard 'Red Giant' (Brassica juncea 'Red Giant')
I told you, we love Chinese mustards! In addition to 'Green Wave', we also grow 'Red Giant'. These plants have a similar textural appearance but, as the name has probably already led you to believe, this cultivar, or cultivated variety, has red leaves instead of green. Unlike 'Green Wave', 'Red Giant' is a little less maintenance, as it's not prone to early bolting.
Keep an eye out for 'Red Giant' in the Palmetto Garden, Children's Garden, Bethea's Garden, and the Old Kitchen.
3) Ornamental Cabbage (Brassica oleracea [Ornamental Cabbage And Kale Group] 'Crane White')
Now, this one may be kind of a stretch. While 'Crane White' is cabbage, it is intended to be enjoyed for its visual attributes, and not for its culinary ones. Even though this is still edible, it doesn't actually taste very good. We can live with that since our displays are primarily intended as a feast for the eyes only.
'Crane White', also known as flowering kale, is grown for its upright habit and its foliage that resembles a flower. It makes for a great cut flower for this reason, but also works as a neat addition to the landscape. You can spot these in the Old Kitchen, Bethea's Garden, and outside Harvest Restaurant.
4) Swiss Chard (Beta vulgaris 'Bright Lights')
I really love growing Swiss chard, especially this cultivar! The petioles, or the stem-looking part that attaches the leaf to the rest of the plant, are different colors. Oranges, pinks, reds, whites, and yellows are all common sights on this lush plant. As they grow and become larger, people sometimes even mistake them for rhubarb!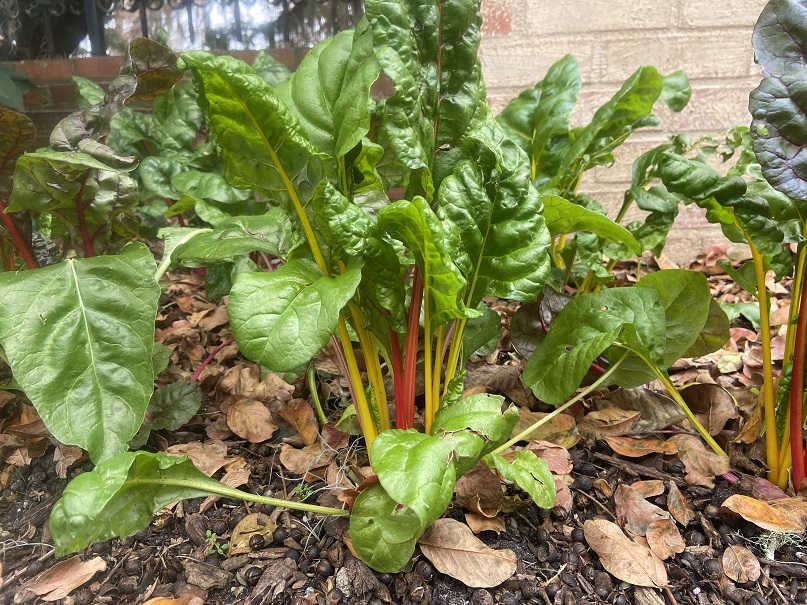 We love how these are "bright lights" in our displays! You can see them planted in the Poetry Garden and Old Kitchen.
5) Parsley (Petroselinum crispum 'Triple Curled')
Parsley isn't only a great garnish for our plates, but also for our garden beds! We are especially fond of the ruffles we find on the foliage of 'Triple Curled' parsley. The texture of the leaf adds another unique element to the planting schemes throughout the gardens.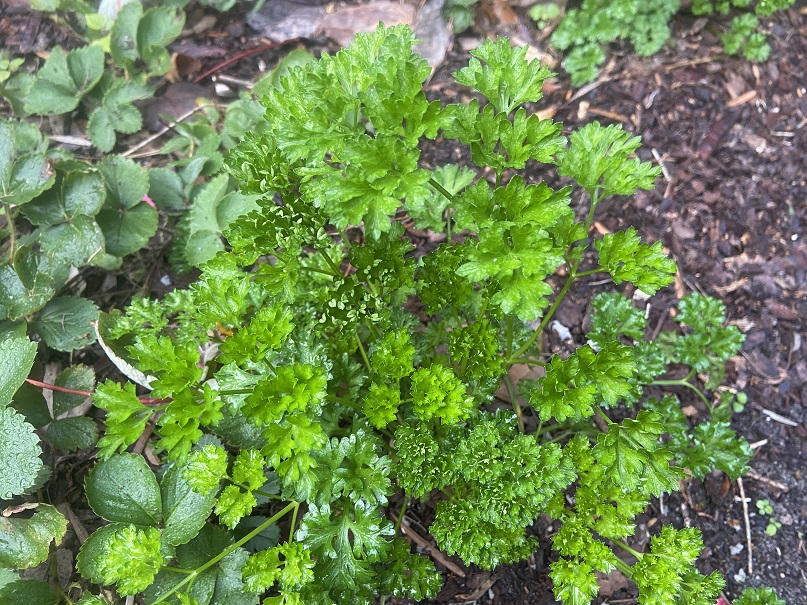 You can see these planted in the White Garden, Palmetto Garden, Bethea's Garden, and the Old Kitchen.
6) Lettuce (Lactuca sativa 'Thai Oakleaf)
'Thai Oakleaf' lettuce looks like tiny, vibrant green hands reaching out of the ground, eager for a high-five! These pretty leaves tend to resemble an oak's leaf, with little "fingers" coming off around the length of the leaf. The chartreuse green is another showy addition to any cool-season planting.
These ferny-looking lettuces are planted in Bethea's Garden and outside of Harvest Restaurant.
Although the plants within our formal gardens are intended solely as eye candy, these lush additions can also find a home in many a salad bowl too! On your next visit to Brookgreen Gardens, see how many edibles-turned-ornamentals you can find throughout our cool season displays.
See you in the Gardens!