Ah, there's nothing quite like a walk down Oak Allée. It offers respite from the heat of the summer while simultaneously engulfing us in its majesty. The live oaks (Quercus virginiana) are immense, as we estimate them to be between 250 to 300 years old. It's easy to be humbled by their presence or at the very least, on a super basic level, appreciate how cool they are.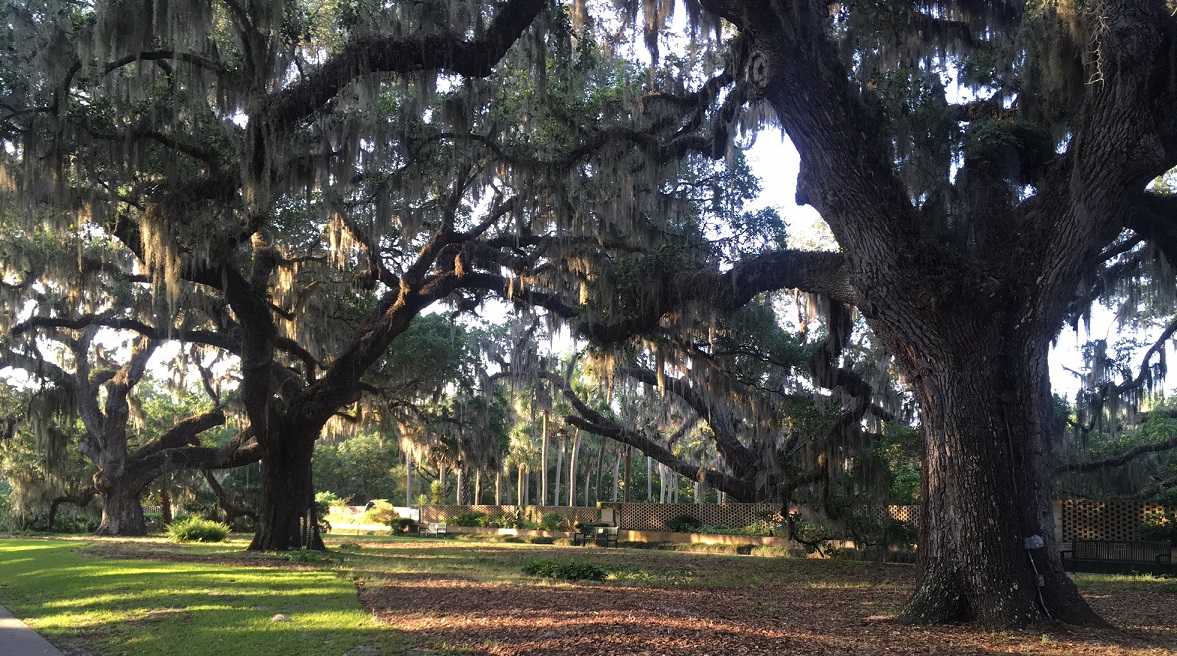 Oak Allée is a highly visible area, not only because of the massive trees that call it home, but also because of how we adorn it throughout the year. If you've paid us a visit during Nights of a Thousand Candles, you've surely seen it illuminated with strands of lights that appear to elegantly drip from its pendulous branches. During the summer, we illuminate the Oaks in a different way - with caladiums.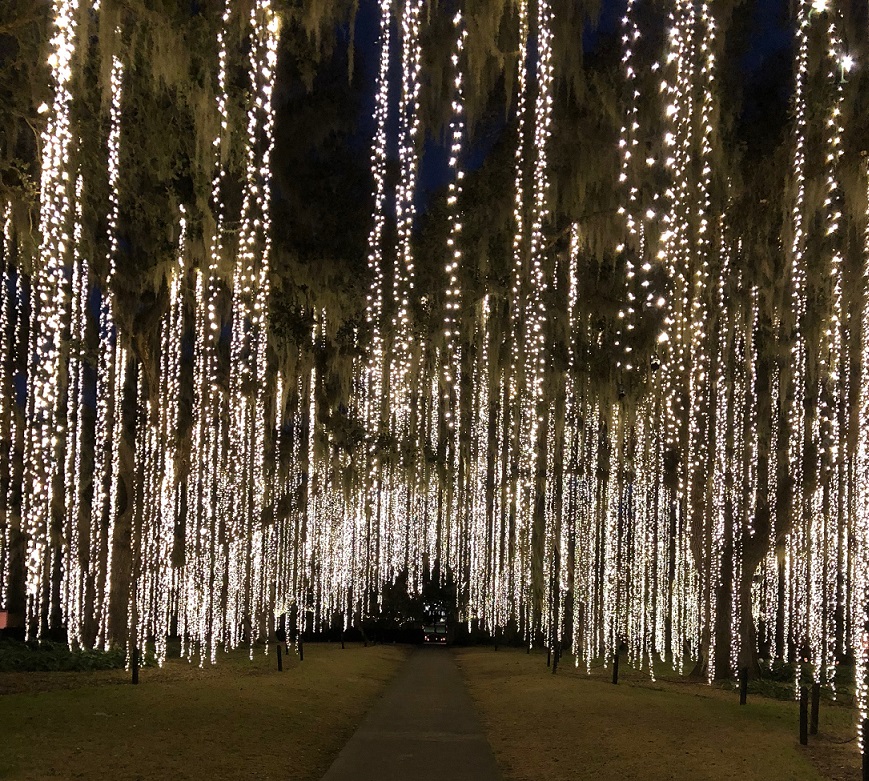 Beneath the stately live oaks rest various herbaceous plants, bulbs and tubers, including those of our caladiums. Each May members of the Horticulture staff and volunteers descend upon Oak Allée with the task of planting thousands of caladium tubers. Tubers are similar to bulbs and you've more than likely had first hand, and mouth, experience with them before. A popular tuber is the potato.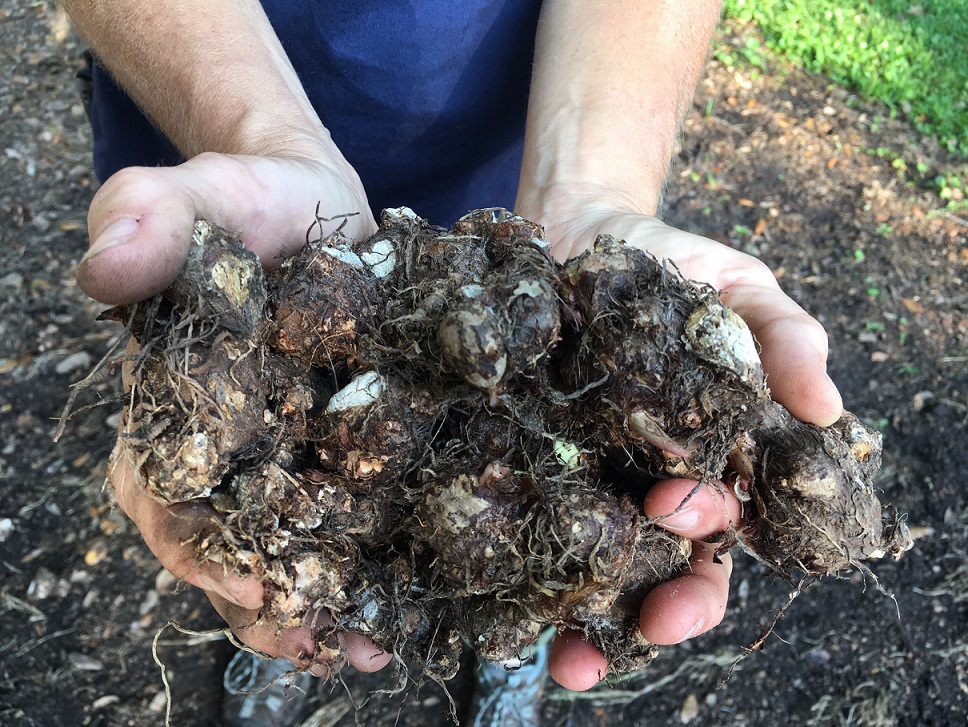 If you haven't seen our caladiums in all of their glory, you may not know exactly what we're talking about. Don't worry, that's why I load this baby up with pictures! Caladiums are also commonly known as elephant's ear or angel wings due to the shape of their leaves, pictured below. They are grown primarily for their attractive foliage which can come in various colors and patterns. While caladiums do produce a flower, it is often not highly visible and can easily become lost in the leaves. It is a neat curiosity to see, bearing a resemblance to a calla lily. One of the other great features of caladiums? Most of them enjoy the shade, which is exactly what we have to offer in Oak Allée!
Jamie Williams is one of our Horticulturists who counts Oak Allée among her garden areas. In order to prepare for the caladiums, Jamie got to work clearing live oak leaves from the planting site. Due to the heavy leaf drop in the spring, there is a dense covering on the bed beneath. This covering is actually a good thing, as the leaves function as a natural mulch and aid in suppressing weeds. But, for now, they take a back seat until the caladiums are settled in their new home.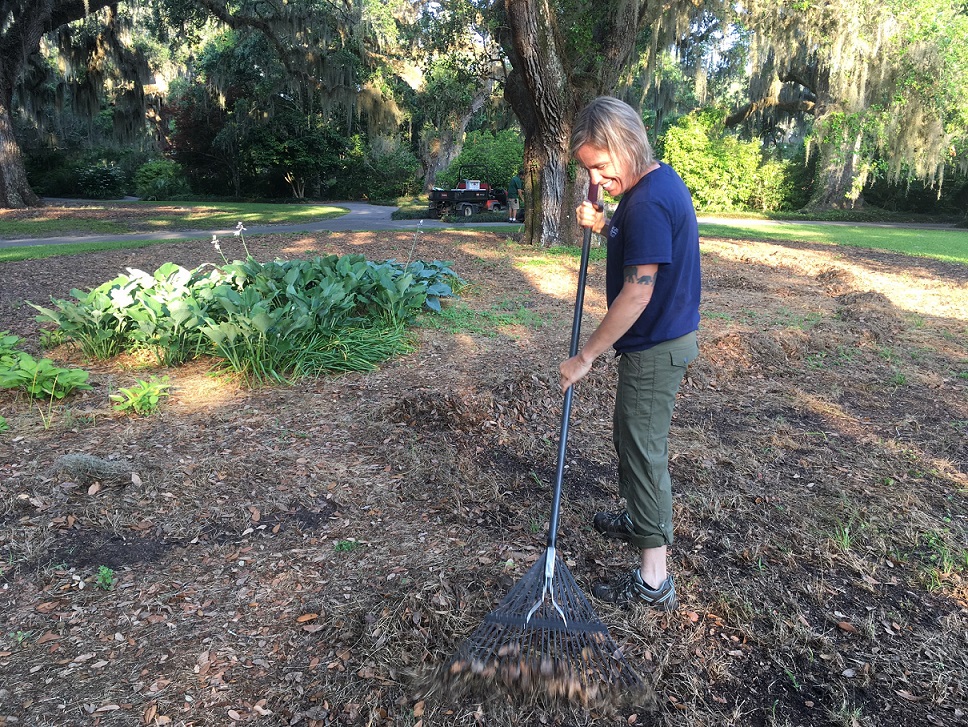 Once the leaves were raked back, it was time to place the tubers. Boxes and boxes of caladiums go in to this immense planting. Jamie carefully laid the tubers atop their intended planting space. Large sections consisting of the same cultivars (or cultivated varieties) were arranged together, flowing gracefully into the next cultivar. It can be difficult to tell what's what when there are no leaves to look at, only brown, bulbous tubers! Luckily for us, Jamie had it under control.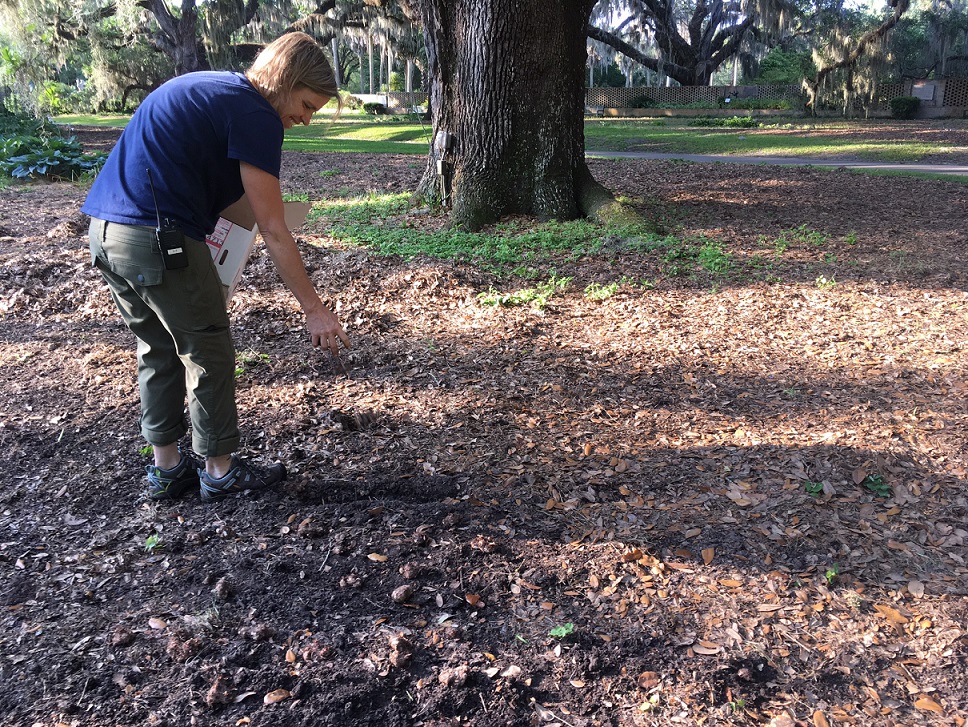 Once the tubers were in place, the volunteers set to work planting them in the ground. It may seem like a daunting task to plant such a huge area, but with the incredible effort set forth by our volunteers, the planting takes about a week to complete.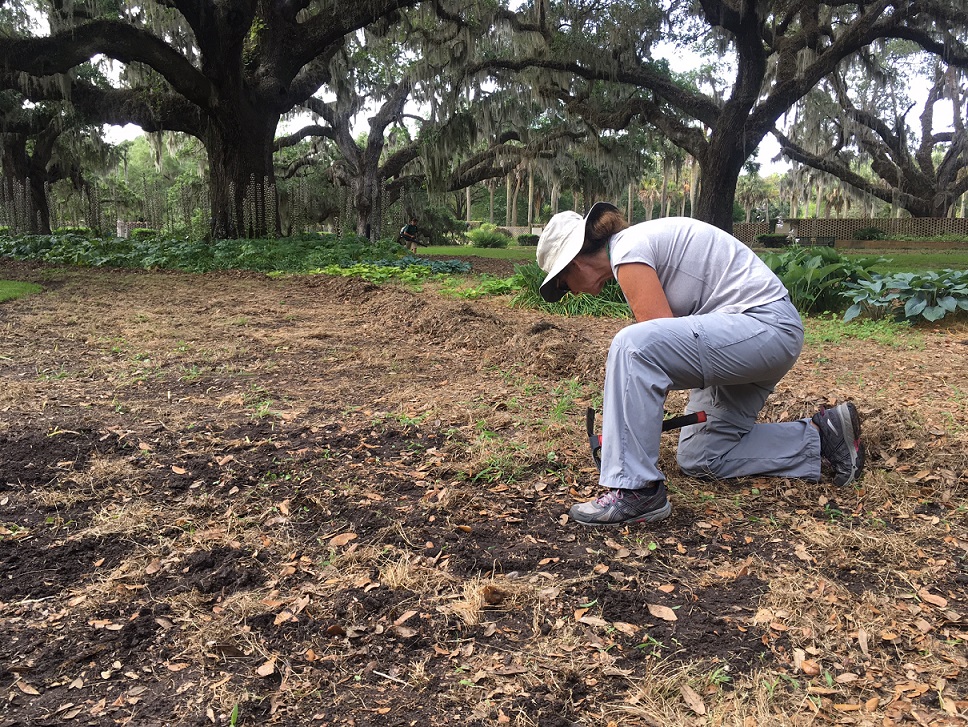 Once the caladiums were planted, it was time to cover them up again. The piles of leaves were raked back in to place and instantly mulched. The final step? To water!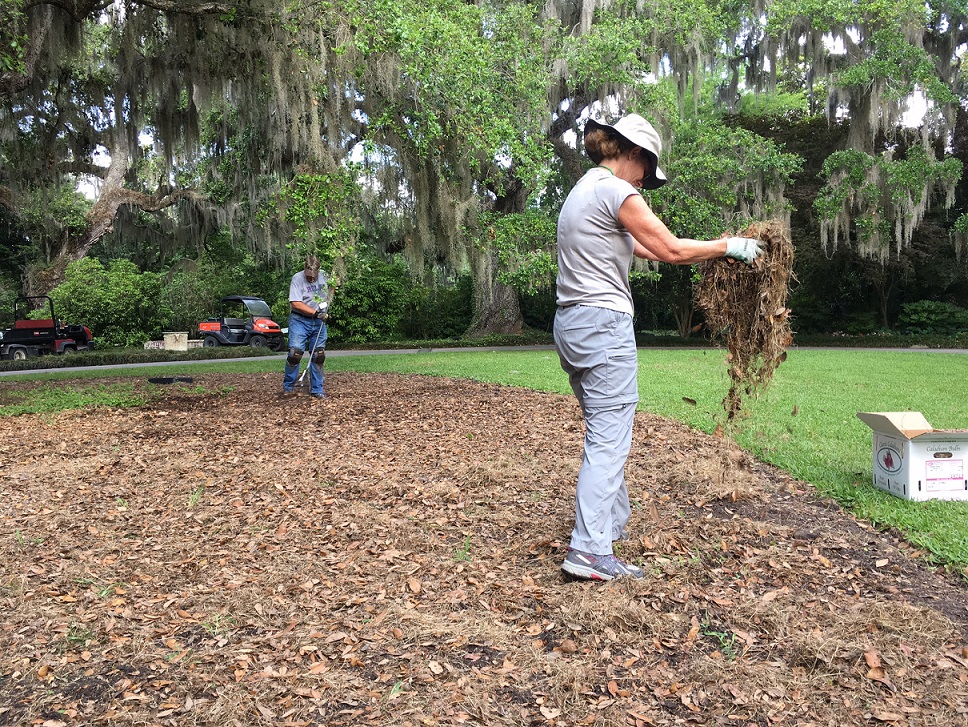 Now we wait. As the weather continues to get warmer and the water continues to nourish them, the caladiums will begin to pop up and fill in. The dense mat they create is not only a beautiful carpet of color beneath the already spectacular trees, but also inadvertently serves as another, more attractive weed suppressant. It just keeps getting better and better!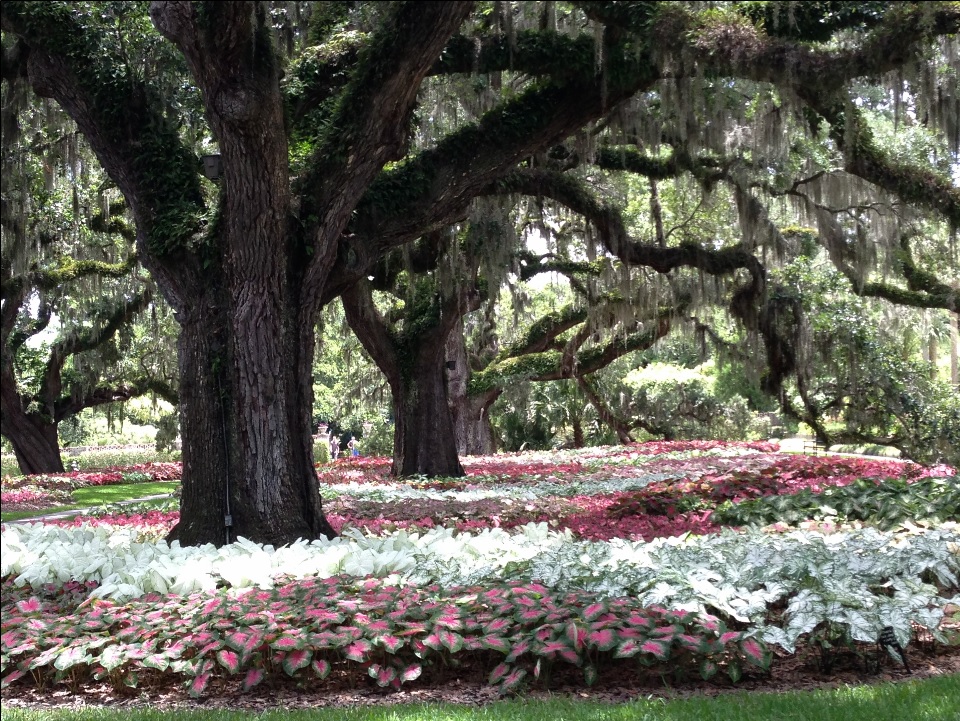 As we move in to June, be sure to stop by Oak Allée and see the lush caladiums beneath the live oaks. This is a wonderful Brookgreen display you don't want to miss!
See you in the gardens!