The Wall Lowcountry Center plays host to a display of numerous native plants and, to a lesser extent, non-native ornamental plants. Toni Ricker, our newest addition to the Horticulture staff, recently acquired this area and quickly got to work whipping it into shape. While it is filled with many treasures, they had fallen under the grasp of weedy invaders. Toni couldn't wait to sink her teeth into this project!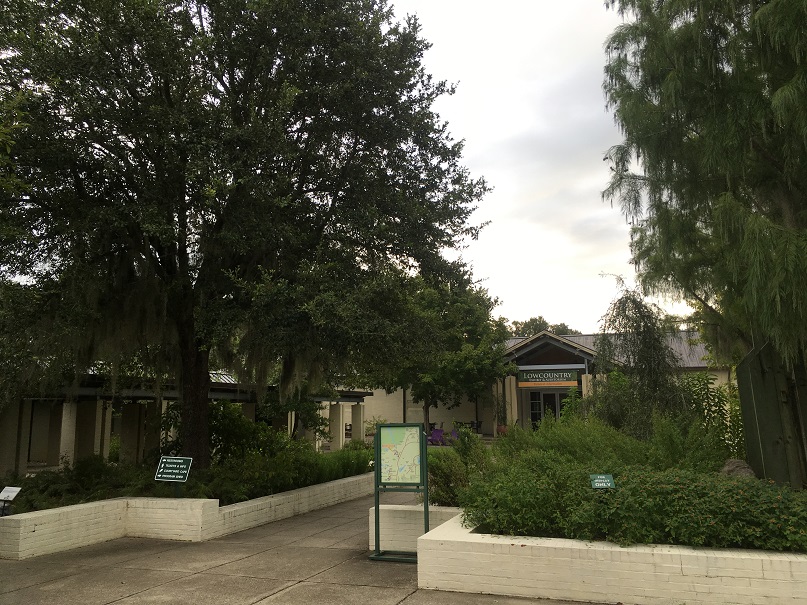 When you first enter the Wall Lowcountry Center, you are greeted by two beds on either side. One hosts a large live oak and has a terraced effect created by the use of repurposed logs. The bed was masked by weeds with the only visible desired plants being ferns and beautyberries.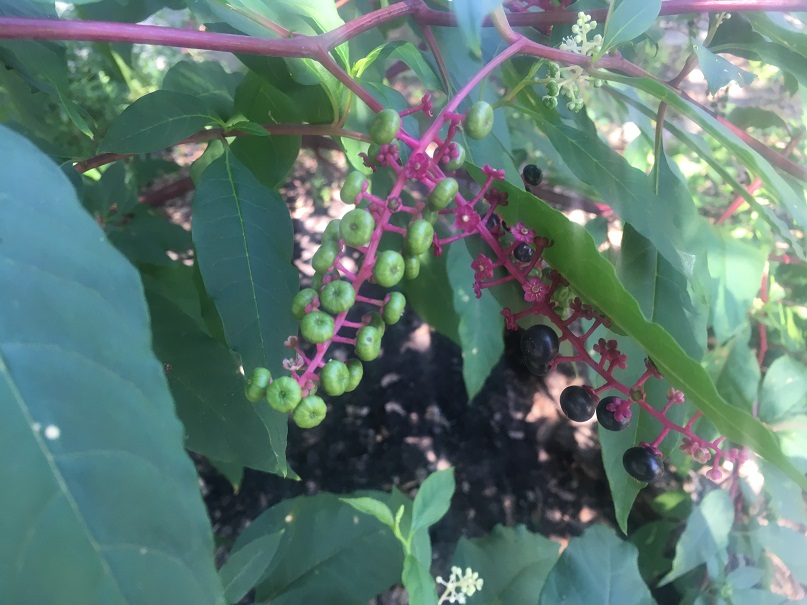 Toni and a dedicated group of volunteers sorted through the weeds and located a few treasures hidden within: azaleas, bee balm and even muhly grass! Also unearthed was pokeweed, pictured above. This herbaceous native plant grows into a large, bushy form and produces berries that loosely resemble grapes. While we often view this as a weed in our gardens, it is a native plant with a lot of attractive attributes. Toni elected to retain a specimen with a beautiful arching form. Her efforts were rewarded by the approval she received from the birds grateful for their meal of berries.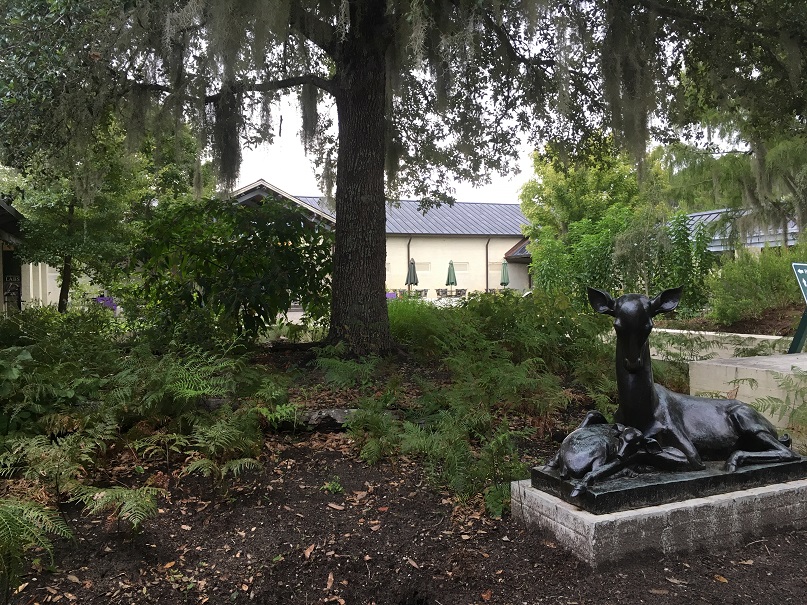 Anyone who starts a big weeding project knows, if you start to pull weeds, you start to create empty spots in the garden. This bed was no different. Ever resourceful, Toni used what plants she already had in the bed and moved them around to fill in holes. Unfortunately, the recycling of plants can only go so far, so a trip to the greenhouse was in order to pick up more plants. If there were already certain plants in the bed, such as the muhly grass, Toni was mindful to supplement with more of the same.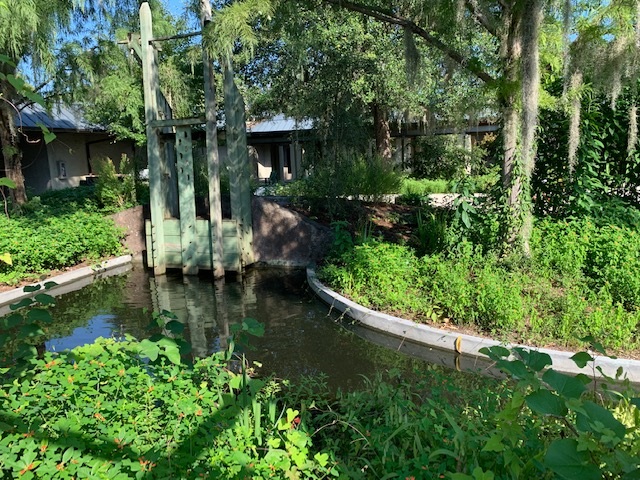 The bed opposite houses the Rice Trunk display. Much like the first bed, this too was engulfed with weeds as well as overeager volunteers from nearby intended plantings, as seen above. Unsurprisingly, these weeds had obscured the view of the Rice Trunk display. Toni was fast to rectify the problem. Setting to work, the rogue plants were cleared and an open view to the Rice Trunk was created. On the other end of the bed was a tall, spreading clerodendrum clump, veiling weeping yaupon hollies behind it. Toni and the volunteers removed them and the hollies are now evident within the bed.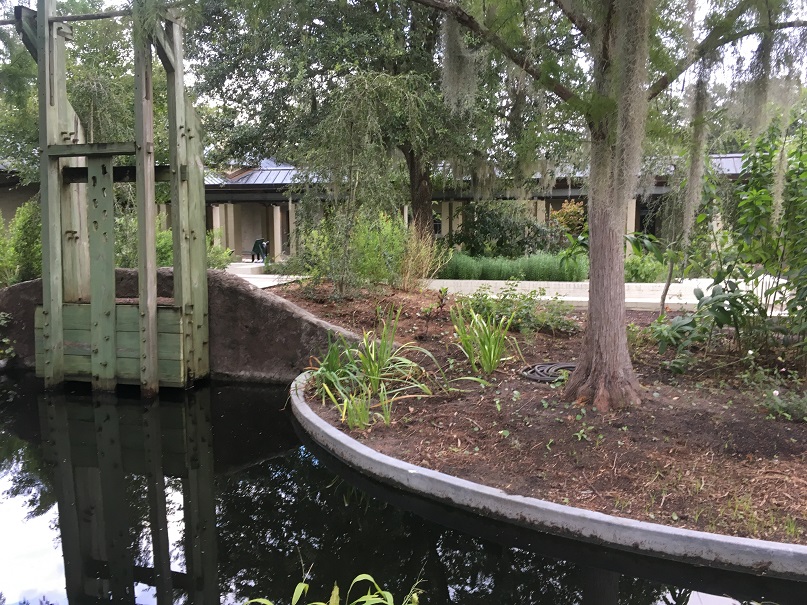 As Toni continues to research more native plants, she plans to continue inserting more into these central beds. As with many garden designs in progress, thoughts are still being formed and ideas are still being bounced around. At this point, Toni plans to stay on top of weeds trying to sneak their way back in, not allowing them to regain their foothold, and to keep control of intended plants that are a bit too overeager, like sea oats, below, and native poinsettia that are now being restricted to specific areas within the garden.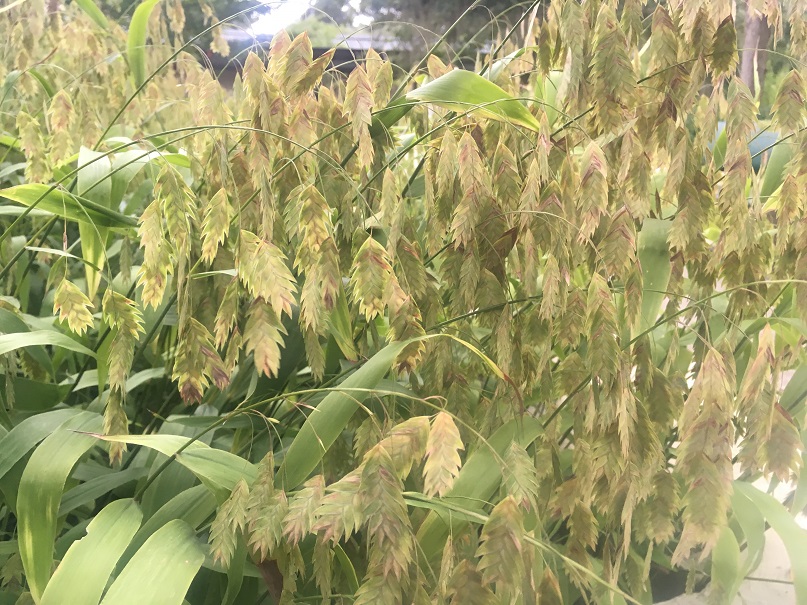 At Brookgreen, when we say "Ever Changing," we mean it! A lot of exciting changes are coming to the garden within the Wall Lowcountry Center, even beyond this sneak peek. Next time you come for a visit, make sure to take a stroll through and see what Toni has been working on – you won't be disappointed.
See you in the gardens!