Holiday Tree Lighting in the Arboretum at 6:15 p.m.
Watch our staff and volunteers light all the candles! Beginning at 4:30 p.m. until every candle is lit.
We will go on Rain or Shine!
Still need Tickets?  Purchase Tickets
Nights of a Thousand Candles is rain or shine!
The entertainment and food are in heated tents. The glistening lights are beautiful in the rain.
Bring an umbrella and enjoy the evening!
If you need to exchange your tickets, please call 844-271-3410 the day before your ticket date to move to another evening.  Please know that in the event of rain, many people may be calling, so be patient on hold and a ticket agent will answer your call as soon as possible.
Commercial Photography is not allowed at Brookgreen Gardens.
Tripods are not allowed during Nights of a Thousand Candles.
Click here for our full photography policy.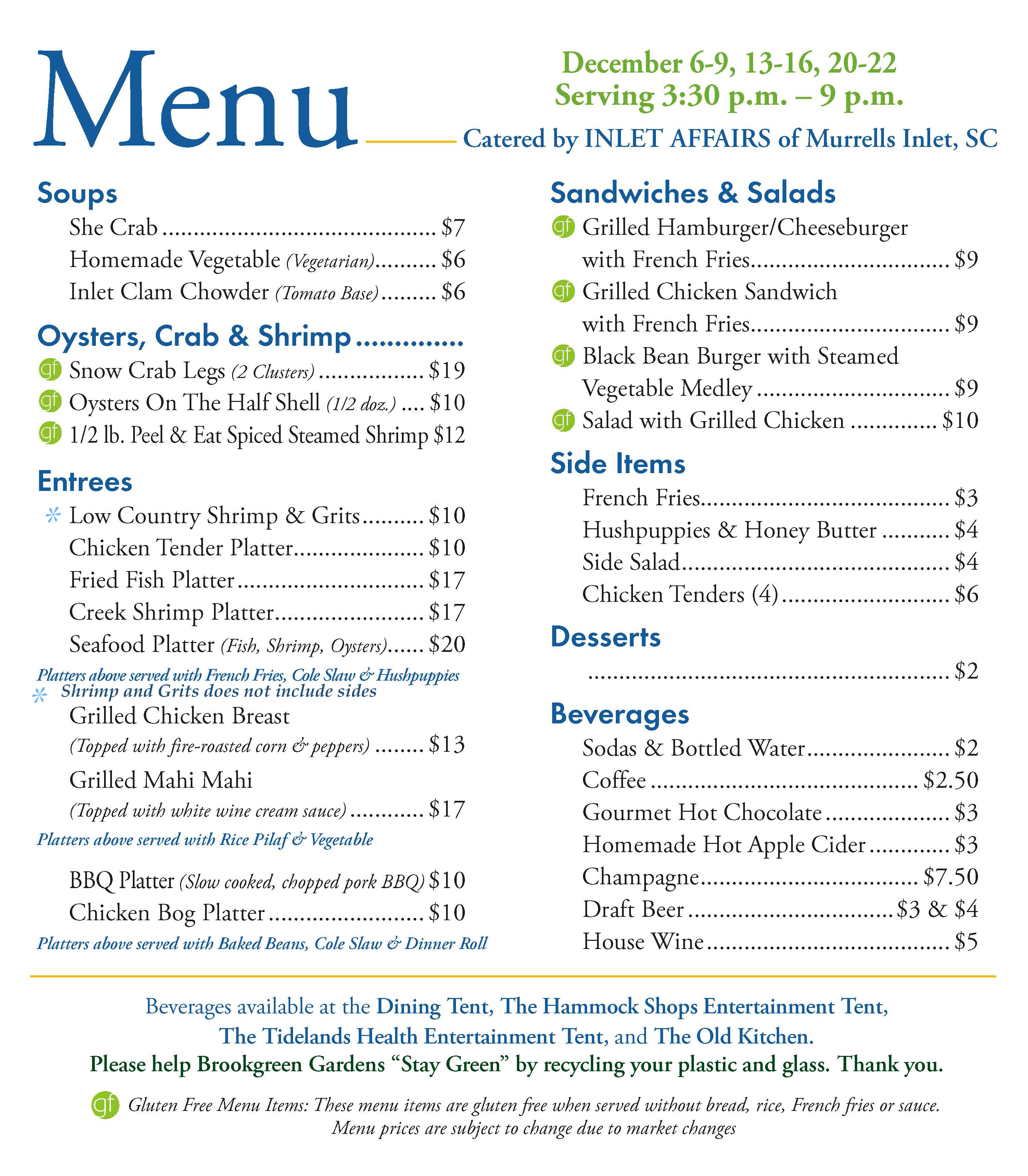 Tips and Frequently Asked Questions!
Here are some suggestions to make your experience more enjoyable.
Make a note of where you are parked (take a picture with your phone!)
Give yourself plenty of time for walking if you are trying to be at the Holiday Tree Lighting or one of the entertainment events. Allow at least 15 minutes between areas.
Dress warmly and wear comfortable shoes.
Brookgreen staff and volunteers will be posted throughout the Gardens. If you have a question, please ask one of them.
A limited number of adult and child strollers are available at no charge on a first-come, first-serve basis. These are located next to the Welcome Center.
Tripods are not allowed at this event. See our photography policy.
Dinner, catered by Inlet Affairs, is available from 3:30 to 9 p.m. each evening and is served cafeteria-style in a large heated tent with inside seating. The menu features a variety of Lowcountry fare including seafood, BBQ, chicken bog, and vegetarian options and is priced in addition to the event admission. Reservations are not accepted. (The Pavilion Restaurant is closed during the event.)
The Old Kitchen, located in the sculpture gardens, serves beverages, soup, and snacks. A beverage tent, located next to the main entertainment tent, offers hot and cold beverages.