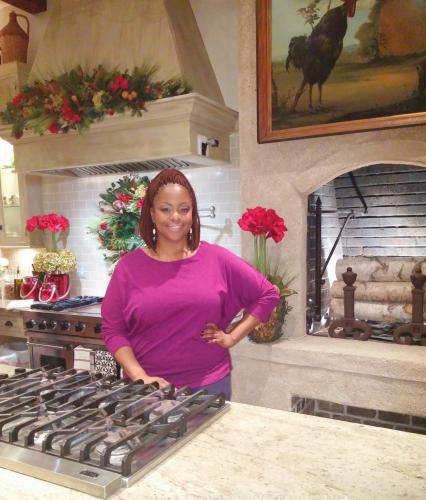 When:
Friday, May 11, 2018 -

6:30pm

to

8:00pm
Where:
Pavilion Restaurant
Food Television star Kardea Brown is bringing her "New Gullah Supper Club" to the Pavilion Restaurant at Brookgreen Gardens! She travels from state to state cooking traditional Gullah dishes with a contemporary twist.
The New Gullah Supper Club aims to unite people from different walks of life with one common interest, to enjoy good food with great people. Chef Kardea Brown will prepare her spin on Gullah inspired Southern dishes with a contemporary twist. The menu will consist of a welcoming smorgasbord, small plate, salad, entrée, dessert, and wine. 
About Chef Kardea Brown:
Kardea Brown is a contemporary Gullah Chef from Charleston, South Carolina. Kardea's family is from Wadmalaw Island, a small island off the coast of Charleston. They are proud to be of Gullah/Geechee descent, preserving much of their West African language, culture, and cuisine. Kardea believes that the food and traditions she grew up with should be shared. She has created The New Gullah Supper Club, traveling from state to state cooking traditional Gullah dishes with a contemporary twist. Kardea has visited various cities across America and has fed hundreds of hungry and happy diners. The menus pay homage to the dishes her Grandmother passed down to her while incorporating ingredients that are unique to that particular city. Kardea is on a mission to spread love and understanding through food and tell her unique story. When Kardea is not traveling with The New Gullah Supper Club or filming, she's running her catering company called Kardea's Kuisine. She also owns a food product company that sells gourmet Pimento Cheese and Southern treats.
Supper Club will be Friday, May 11 at 6:30 p.m. Tickets are $100 per person and are available on our website or by calling ShowClix at 888-718-4253. Seating is family style.
Menu
Course 1
Southern Smorgasboard. Kardea's famous Southern Pimento cheese, seasonal fruit, homemade bread and butter pickled vegetables, with Low Country boiled peanuts. Served family style.
Southern Garden Salad with seasonal vegetables
Course 2
Hot Honey Butter Fried Chicken Biscuit. Fried chicken breast
nestled between a made from scratch buttermilk biscuit topped with a collard green slaw then drenched in hot honey butter.
Course 3
Geechee Gumbo made with local Charleston white shrimp, smoked turkey sausage and succotash. Served with traditional long grain white rice.
Course 4
Not My Grandmas Bread Pudding. Warm cinnamon sugar bread pudding with raisins and pecans. Drizzled with a bourbon caramel glaze.