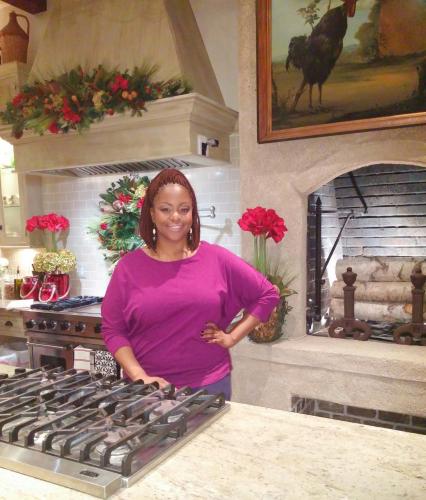 When:
Saturday, May 12, 2018 -

2:00pm

to

4:00pm
Where:
Lowcountry Center Auditorium
Food Television star Kardea Brown will be at Brookgreen Gardens for a Gullah cooking demonstration and tasting in the Lowcountry Center Auditorium! She travels from state to state cooking traditional Gullah dishes with a contemporary twist.
She will be creating a one pot meal, Sakuma Wiki, featuring collards and ground turkey for the demonstration and tasting. Guests will also have the opportunity to taste Kardea's pimento cheese and pickles that she currently sells. She enjoys sharing about her Gullah heritage and her experiences as a food television personality during her presentations.
Kardea Brown is a contemporary Gullah Chef from Charleston, South Carolina. Kardea's family is from Wadmalaw Island, a small island off the coast of Charleston. They are proud to be of Gullah/Geechee descent, preserving much of their West African language, culture, and cuisine. Kardea believes that the food and traditions she grew up with should be shared. She has created The New Gullah Supper Club, traveling from state to state cooking traditional Gullah dishes with a contemporary twist. Kardea has visited various cities across America and has fed hundreds of hungry and happy diners. The menus pay homage to the dishes her Grandmother passed down to her while incorporating ingredients that are unique to that particular city. Kardea is on a mission to spread love and understanding through food and tell her unique story. When Kardea is not traveling with The New Gullah Supper Club or filming, she's running her catering company called Kardea's Kuisine. She also owns a food product company that sells gourmet Pimento Cheese and Southern treats.
The demonstration and tasting will be at 2:00 p.m. Tickets are $35 per person and can be purchased on our website or by calling ShowClix at 888-718-4253.