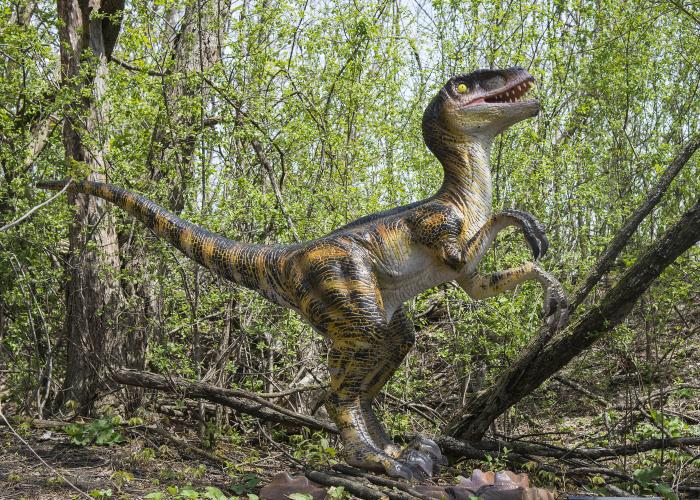 When:
Saturday, October 21, 2017

to

Sunday, May 13, 2018
Where:
Located near the Lowcountry Zoo
Prices (in addition to garden admission)
$8.00 for adults
$4.00 for children ages 4 – 12
Free for children 3 and under
10% discount for members 
Hours 9:30 am to 4:30 pm daily
Objective
To provide an entertaining and educational experience for guests of all ages to discover interesting facts about dinosaur history and make connections about Lowcountry natural history
Location
Dinosaurs! will be located in the Butterfly Exhibit and the field adjacent.
Animatronic Dinosaurs—The exhibit features 17 lifelike dinosaur animatronics along an outdoor landscaped pathway. As guests pass by each animatronic, a sensor signals various parts—eyes, head, arms, tail—to move.
Paleontologist Excavation Site—Along the trail, there will be a replica of a paleontologist campsite site that showcases how paleontologists uncover dinosaur specimens, and gives children the chance to uncover "fossils" on their own. 
Colorful Graphics—Signage introduces guests to each of the animatronics that represent the inhabitants from a time gone by, from the Late Jurassic Period when the Stegosaurus roamed North America 150 million years ago to the Late Cretaceous Period of 85-75 million years ago when the Pteranodon wandered the earth.
Animatronics include:
Ankylosaur 
Stegosaurus
Apatosaurus 
Megalosaurus 
Triceratops
Pachycephalosaurus 
Tyrannosaurus Rex
Dilophosaurus 
Pteranodon 
Utahraptor
Dracorex hogwartsia