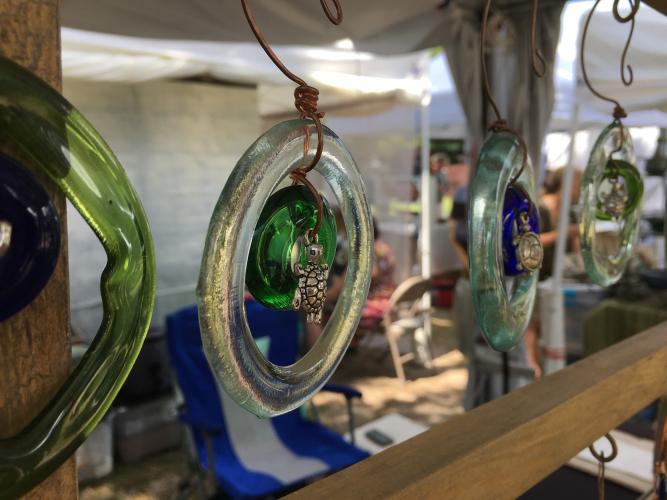 When:
Saturday, June 2, 2018

to

Sunday, June 3, 2018
Our two-day event Art Festival (9:30 a.m. - 4:30 p.m.) provides an opportunity to talk with local and regional artists and authors. Brookgreen invites selected artists and authors to sell their works, meet with visitors and give demonstrations. The festival is free with garden admission.
List of Artists for 2018
Slone, Linda & Allen - Copper Creations, Repousse Copper with Patina Rock Hill, SC
Berg, Ann & Tracy Oswald - A Berg Design -Hand Painted Glass Art, Serveware & Access.Surfside Beach, SC
McDonald, Betsy - Fine Oil Paintings Charleston, SC
Goolsby, Catherine - Cooper and Fine Silver Jewelry Scottdale, GA
Ayala, Sue - Sue Bird Ayala Glass Daytona, FL
Bullard, Tim - -Pottery and Sculpture Jacksonville, FL
McBride, Ed - Edward Alton Designs Sculpture Cypress, TX
Munden, Michael - Michael Munden's Hand Crafted Jewelry Myrtle Beach, SC
Goad, Dan - Mixed Media St. Simons Island, GA
Johnson, Ronald - Fine Jewelry Islamorada, FL
Blank, Michele - Michele Blank- A Work of Art Glass Studio Mt. Pleasant, SC
Penegar, Scott - Scott Penegar Sculpture Charleston, SC
Goodwin, Jim - Carolina Ships In Bottles Charlotte, NC
Hatch, Cathy - BOLD by Kattour Jewelry Myrtle Beach, SC
Wowk, Wendy - Jewelry by Wendy Carolina Shores, NC
Sturm, Jeffrey - Paintings in Oil Pawleys Island, SC
Barnwell, Ivie - SweetGrass Baskets Charleston, SC
Bowden, Amy - Colorful Original Designs Savannah,GA
Shannon, Carol Joy - Contemporary Nostalgia Paintings Beaufort, SC
Rankin, Jody  - Scientific Illustrations, Gyotaku & Moku Hanga Awendaw, SC
Jeffcoat, Tonda & Joe - Jeffcoat Pottery Calabash, NC
Formyduval,Lanita - Fireball Pottery Little River, SC
Cormany, Claire - Original Paintings Birmingham, AL
Colby, Bill - Bill Colby Pottery New Smyrna Beach, FL
Hontz, Susan Susan's Living Art, LLC- Air Plant Arrangements Manning,SC
Masters, Anthea - Hand Stamped Silverplate Pawleys Island, SC
Evans, Brian - Ceramics Wilmingotn, NC
Brylowe, Jean - Studio 168 - Fused Glass Jewelry Carthage,NC
DeHart, Patricia - DeHart Designs - Paintings Virginia Beach, VA
Sandlin, Caroline - Caroline Sandlin Jewelry Branchville, SC
Howze, Booker - Fine Art Painting Creedmoor, NC
Piracci, Remo - Pottery by Remo - Work Inspired by Nature Zirconia, NC
Duwel, Phillip - Duwel Photography, LLC - Photographic Art Lexington, SC
Goodspeed, David - Photo Artist - Digital Photography Blue Ridge, GA
White, Renee - Mixed Media Prism Color Pencil with Water Color St. Augustine, FL
Maier, Eddie - Eddie Spaghetti Art - Woodcut Printmaking Maidsville, West VA
Davis, Sheron - Glass Art Decatur,GA
Borowsky, Elizabeth - Elizabeth B. Ceramics Andrews, SC
Airgood, Barb - SONshine Chimes - Fused Glass Wind Chimes W. Columbia, SC
Crosby, Charlie - Crosby's Cuttings Charleston, SC
Mastaglio, Barbara - Barbara Lively Mastaglio Paintings Windsor, Va
Caine, Natasha - NataZhur Victorian Bumblebees Wilmington, NC
Trotter, Lynne - Trotter Arts- Photography Lexington, SC
Daise, Natalie - Portraiture, Lowcountry Art Georgetown, SC
Farish. Connie Bennett - Connie Bennett Collection- Jewelry Shelby ,AL
Cockman, Pui- Lan - Elegant Studio Oriental Art Asheboro, NC
Merritt, Mike - Whimsical wood bird houses Travelers Rest, SC
Summers, Jean - Mixed Media Venice, FL
Shuler, Rachel - Mountain Tree Studios - Abstract Automotive Photography Charlotte, NC
Parrish, Ginnie - Blue Frog Designs - Unique Polymer Clay Creations Cary, NC
Gallegos, Jill - Poetry N' Wax - SandStone Luminaries Savannah, GA
Agnew, Margie - Margie's Mudd Creations Ayden,NC
Mellen, Barbara - The Earring Lady - Dichroic Glass Jewelry Florence, SC
McCarthy, Deborah - The Glass Menagerie - Fused Glass Chapin, SC
Elrod, Wanda - Silver OZ Designs - Silver Jewelry Summerville, SC
Petke, Katherine - Black Crow Pottery Rock Hill, SC
Manning, Rhonda - Blossom & Gauge Jewelry Macclesfield, NC
Hazard, Steven - Art Glass North Charleston, SC
Rudd, Tammy - Lampwork Glass Jewelry Holly Hill, SC
Cordaro, Joe - Digital Illustrative Art Wilmington, NC
Mulry, Jill - Tile Art Seminole, FL
Hiltabidel, Joe - Coastal and Mountain Landscape Photography Travelers Rest, SC
Harper, Caroline - CHI Design - Indigo Textile Art Columbia, SC
Johnson, Morris - Mixed Media St. Petersburg, FL
McFadden, Cynthia - Just Watch Me- Jewelry Charleston, SC
Turner, Bill - Paintings Newnan, GA
Long, Lynn Long Time Photography - Nature and Wildlife Beaufort, SC
Oda, Kathy - Kiln - Formed Glass Ladys Isl., SC
Colby, Lisa - Hand Wrought Sterling Silver Jewelry Asheville, NC
Paulson, Sally - Fine Art Photography Atlantic Beach, FL
Rogers, Larry and Tracey - LTR Pottery- Alternative Fired /Raku Pottery Dickson,TN
Thome, DonnaI - SAJUL Jewelry by Donna Thome Raleigh, NC
Ness, Diane - Fashion Holly Springs, NC
Cale, Richard - Magic Voice Woodturning and Lighting Art Leesville, SC
Paternoster, Jose - Watches & Jewelry West Palm Beach, FL
Suckstorf, Kowena  - KLS Design - Fused Glass Art, Framed Shells N. Myrtle Beach, SC
Douglas, Sally - Douglas Pottery St. John, FL
Edgar, Karen - Musical String Instruments, Charcoal Drawings Myrtle Beach, SC
Best, Lynda - Lynda Best Nature Spirits Paintings Tellico Plains, TN
Beard, Jill - Beautiful and Functional Glass Art Virginia Beach, VA
Pellicci, Danielle - Fine Art - Nature and Equine/Canine Portraiture Hemingway, SC
Clark, Jim - Whimsical Copper Garden Art Charleston, SC