Alright everyone, let's take a minute and simmer down. It may seem like some harsh words have been thrown around and emotions may be running a touch high. Please, give me a minute and let me explain, but know this - I meant every word, but the growing up I'm talking about is actually the direction!
It's easy for us to get it into our heads that putting a plant in the ground means that's where it stays. We need to break this old fashioned way of thinking and turn our sights higher. The sky is the limit, or perhaps, our supporting structure is. One of my favorite types of plants (shhh, I know, I have a lot!) are vines. It adds another layer of depth to our gardens and opens up a wonderful, new realm of possibilities.
Vines are a great way to add vertical interest, as well as take advantage of every little bit of garden space you have! I'm going to share a few vines we have at Brookgreen that help to create greater interest within our gardens. Who knows? Maybe you'll find yourself itching to add some vines to your home garden too!
Hyacinth Bean (Lablab purpureus)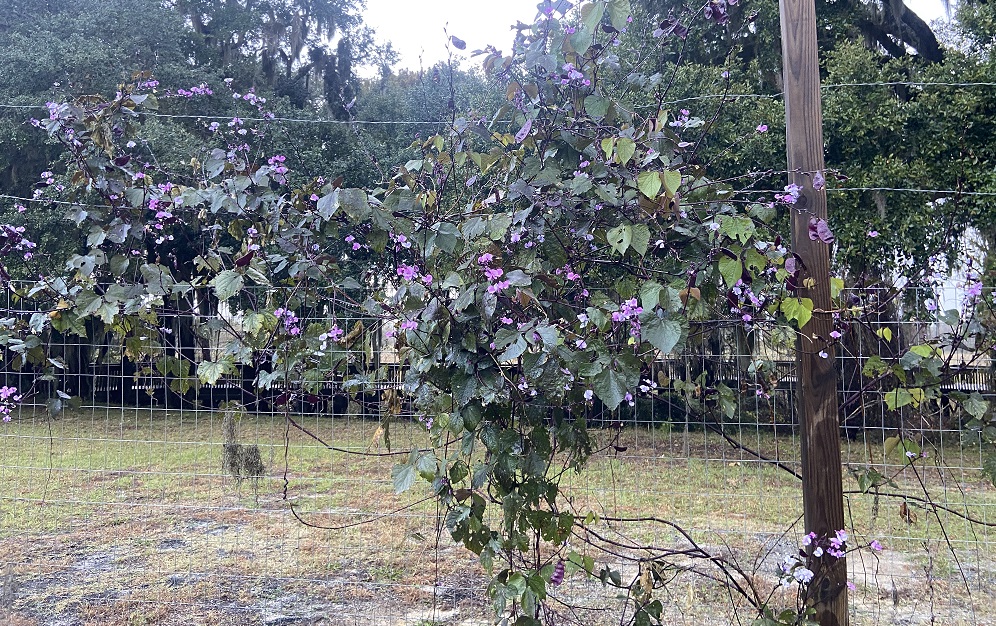 Hyacinth bean has become a fast favorite around the grounds at Brookgreen! We have used this very attractive vine along the fence at Bethea's Garden, in containers at the Welcome Center, and to complement our gourds displayed in the corridor between the Bleifeld Gallery and the Children's Garden.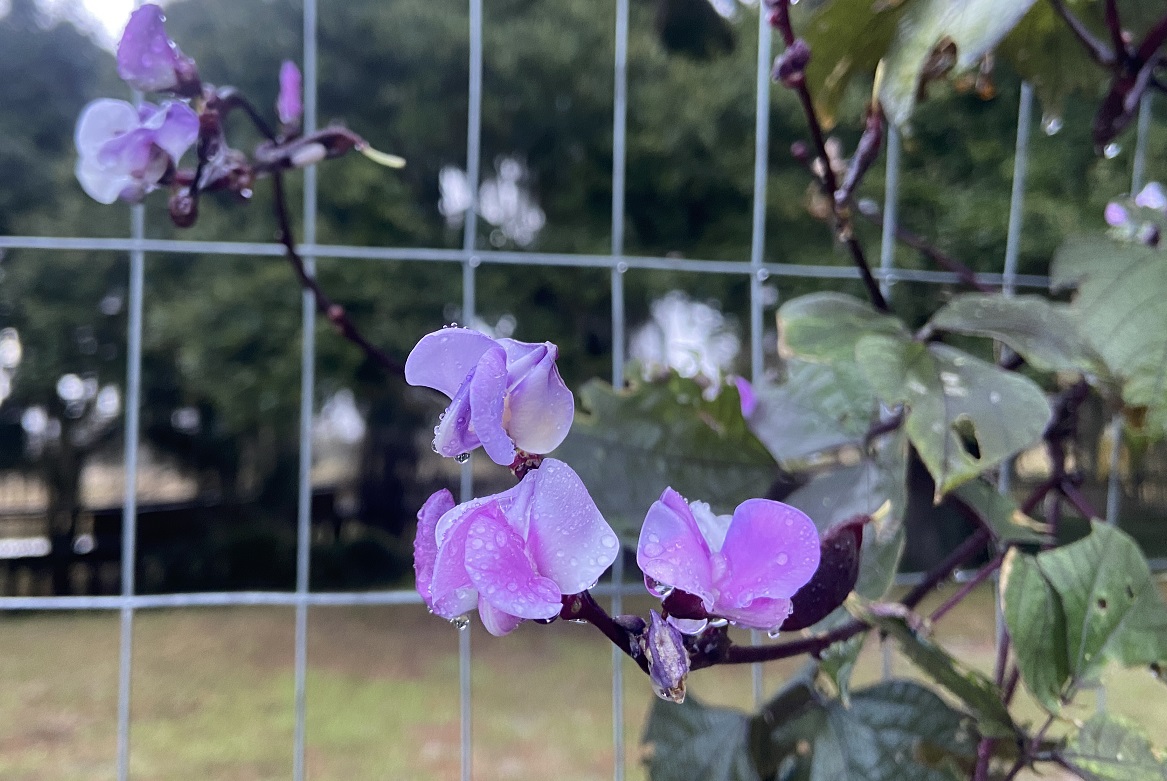 The pea-shaped flowers are purple and attractive. They are borne on darker purple stems that add even more interest and allure.
The fruit of the hyacinth bean is also worth appreciating. This plant has a lot of great aesthetic qualities! The one negative? It's a tender perennial, so we need to replant each year. Don't worry though - this plant puts on a lot of growth fast and can quickly spread across its supporting structure in no time!
Purple Passionflower (Passiflora incarnata)
If you've been to Augustus Saint-Gaudens' Diana, you've seen purple passionflower in all its glory. This twining vine has quite a presence! While we may think of it as an upward growing vine, it also tends to get legs and make a bit of a run across the gardens, thanks to its sucking roots. If you're willing to keep it in check, it's a great addition.
You really don't see many flower forms like this around. If you're willing to put in some work to keep this vine mannerly, it is definitely worth the effort. If cupid's arrow hasn't quite found you yet with the flowers alone, there is one more big bonus to make Passiflora incarnata your new favorite - it's a native plant too!
Corkscrew Flower (Vigna caracalla)
I found corkscrew flower to grow very nicely along the gate of the Poetry Garden. It grew well without impeding the roses that also shared the space. A vine with manners is the vine for me! But, if the corkscrew flower was to get a little out of control, it is a tender perennial, so it would not survive our winter and therefore would not overtake the garden.
Corkscrew flower, which also has the common name of snail vine, certainly delivers in the unique flower department. The flowers, which are incredibly fragrant, do bear a resemblance to snails, without the garden destruction actual snails bring. Although these amazing flowers only appeared towards the end of our growing season, they were definitely worth the wait!
Climbing Fig (Ficus pumila)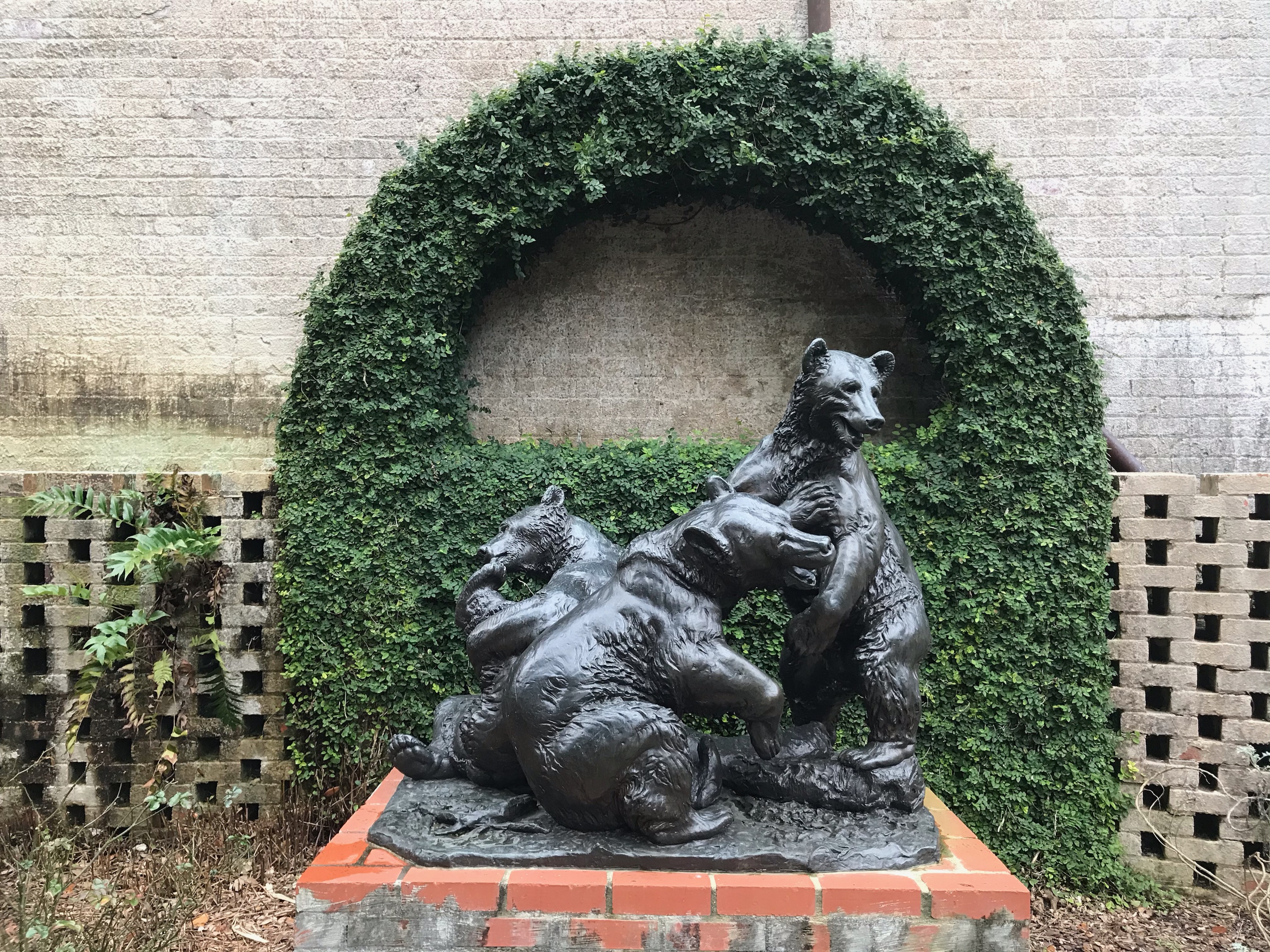 Climbing fig offers a bit of refined elegance. It's almost like the southern take on Boston ivy. While it may create an opulent appeal to the walls it grows upon, it definitely comes with maintenance needs that should not be ignored!
This spreading vine can grow quickly and take over in the blink of an eye! If you decide to incorporate this into your home garden - or onto your home - be prepared to keep it in check. You don't want this vine creeping between the house and the gutters, or covering windows.
On top of that, these latch on to structures with something called adventitious roots, which look like little hairs on the back of the stem. In the case of climbing fig, they are essentially roots that are used to hang on to things. Depending on the surface it's growing on, it may take the paint or small pieces of brick right off! While this is a neat plant, it's one that should only be planted after careful consideration.
Climbing Roses (Rosa spp. cv.)
Okay, okay this next one isn't technically a vine, but hear me out! Roses come in different forms, and one of those forms are known as climbing roses. Don't be deceived - these plants have no way to attach to a structure by themselves and need a little help from us humans to accommodate them.
With climbing roses, you need to train them to the structure they will be growing on. You do this by tying jute twine to flexible canes, or stems, and tying those to your support structure. I particularly enjoy doing this, since you can create whatever shape you'd like. I typically do a fan shape, but I inadvertently trained our featured climber, Rosa 'Veilchenblau', into a heart!
As you can now see, it's easy to get worked up over vines! Climbing plants allow you the ability to grow plants in places you may have never considered. The variety in growth types, flowers, and overall habit leaves a lot of room for creativity. If vines aren't for your garden, you can always get your vine fix with us at Brookgreen!
See you in the gardens!