We know that plants come in all shapes, sizes, and colors, but did you know the containers that hold them come in all shapes, sizes, and colors? Container planting is a great way to give your plants a comfortable and stylish place to grow in your home. Today, we'll be talking about container planting and its health benefits!
Plant Health
While in-ground planting can be so much fun, not everyone has the opportunity to grow plants in the ground. Some of us live in apartments or areas where there is not much of land to use. In this case, containers can be great to enhance your space and nurture the life of a plant. If you have a balcony or outside space, containers can also be used to give the space more dimension! Here at Brookgreen Gardens, you can find containers across the gardens. One of these container displays is the one pictured below, located near Austin's Harvest Restaurant!
Keeping plants healthy in containers requires varying degrees of effort based on the plant. When looking into growing plants in containers, first research the plants you are interested in and the effort they require. If you have children, grandchildren, or pets in your homes, check the toxicity of the plants too! From there, learn about each plant's needs. Some plants require constant watering, while others like to oscillate between wet and dry roots. Some plants love the sun, while others prefer partial sun/partial shade or full shade. Based on your living situation, you may gravitate towards low-effort, full shade plants, high-effort, full-sun plants, or somewhere in-between! Like I mentioned in my last blog post, reach out to your local garden, greenhouse, nursery, or garden supply store to get recommendations for your specific situation.
Personal Health
Having plants in and around your home can be incredibly important for your health. As I have mentioned in my apothecary blog, you can grow plants for herbal or medicinal uses. One way I have been doing this is growing rosemary and thyme in small pots on my windowsill for cooking! Other health benefits of indoor plants are air filtration, stress reduction, and improved mental wellbeing. Air filtration with plants has been seen with functional green walls. Functional green walls move polluted air through plant growth to filter air pollutants like particle matter (Pettit et al., 2017). Although these structures are currently not accessible on a large scale, air filtration can still be achieved through plant selection for your own home!
In past blogs, I have mentioned horticulture therapy and nature-based therapy. These two types of therapies can be used to reduce stress and improve mental health and well-being, including for those in urban areas (Vujcic et al., 2017) and those in schools (Lee et al., 2018). Even if you are not in an official horticulture therapy program, practicing horticulture in your life by caring for plants and creating a routine can be a calming experience that reduces your stress.
Practicing Health
Now that you know how containers are great for you and your plants, how do you plant in a container? First, you are going to select a container that is an appropriate size for your plant. As your plant grows, you may have to repot the plants into a larger container. If you want to keep the plant a certain size and shape, make sure to prune the plant before its growing season. If the plant you have selected is a seed, you can follow my seeding video here! If you have a plant with foliage and growth, follow the steps below!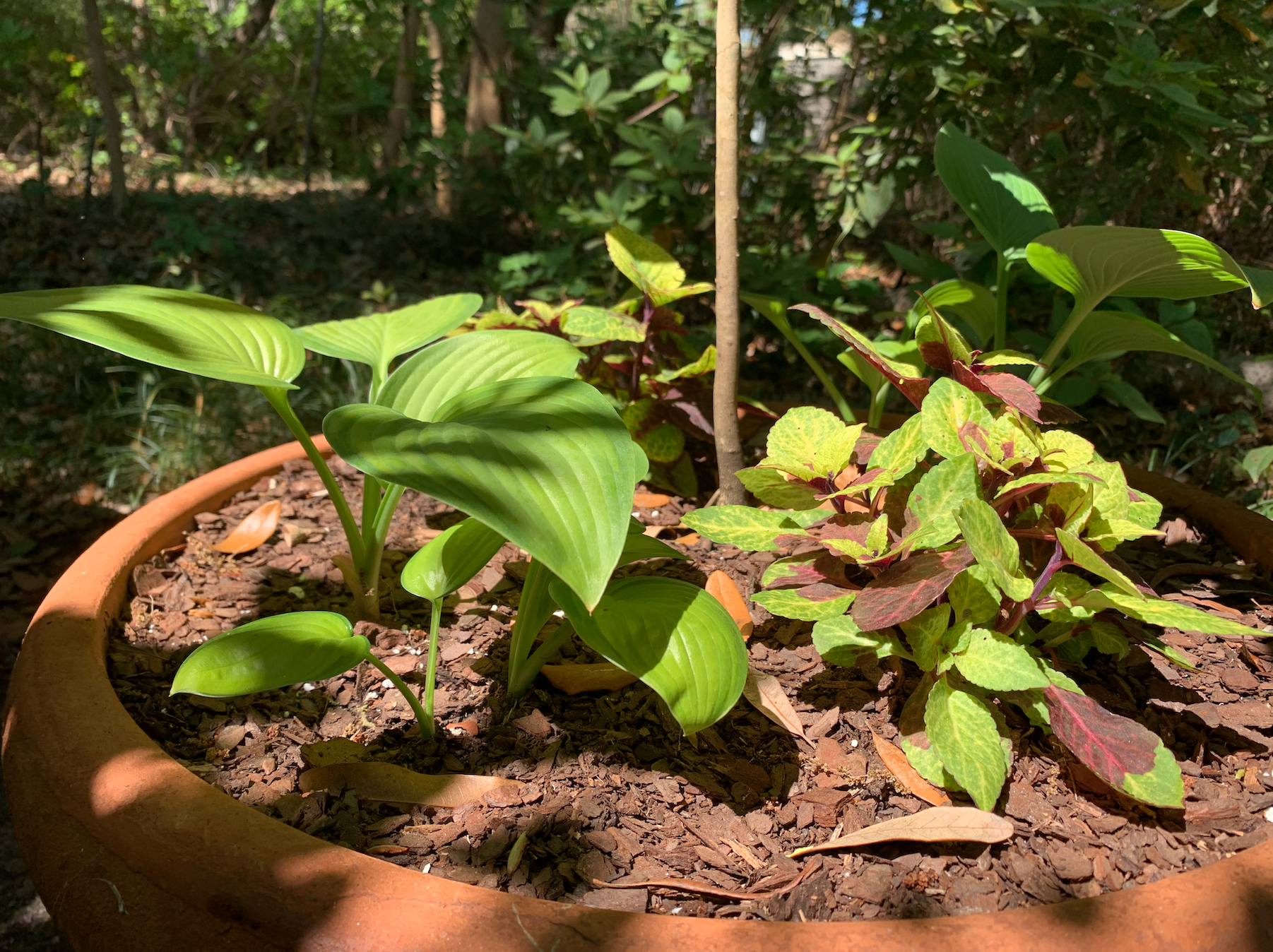 Plan for where you want the plant to go. If you are planting multiple plants in the same pot, make sure to space them so each plant has adequate space. 
Fill the container with potting media.
Create hole(s) for the plant(s) to go in by using a hand trough or your hands. 
Remove the plant from the container it was in last and loosen the roots. This will allow the roots to spread out and bring water and nutrients into the plant more efficiently. To loosen the roots, run your fingers over and between the bottom of the roots, similar to untangling a cord or long hair. Be careful to avoid damaging the roots during this process.
Place the plant(s) inside of the hole(s) with the bottom of the stem even with the top of the container. If the roots are deeper than the spaces you initially made, go back and remove more soil so that the roots are comfortable in the container. 
Add fertilizer to the potting media. 
Cover the top of the potting media with mulch as a protective layer against cold weather and weeds.
Water your plant with enough water to moisten all the soil!
Thanks for joining me for this week's Behind the Seeds! Snag some containers and let's keep our PH balanced!