There's always something new to see on a trip to Brookgreen Gardens. We take our motto "Ever Changing. Simply Amazing." pretty seriously! While there's a ton to see within the walled gardens, have you ever taken a trip to the Trail Beyond the Garden Wall?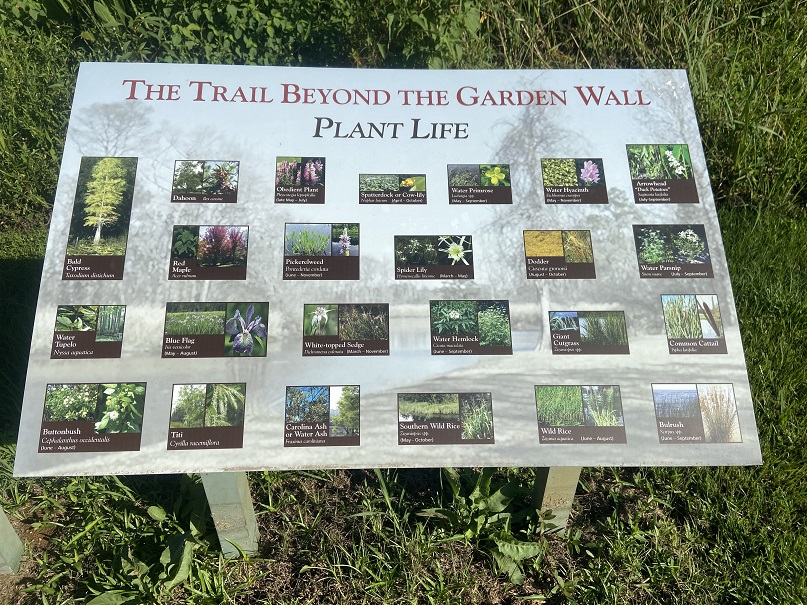 My trips to the Trail Beyond the Garden Wall (TBGW) used to be reserved for shortcuts between the north and south ends of the Gardens; as a road, but not as a destination to appreciate. A recent email inquiry about TBGW sparked my interest to see it in a new light. This time of year, there are some amazing native plants out there to see and admire, especially as they burst into flower. Some are more obvious than others, but boy are they worth seeing! 
1) Swamp Mallow (Hibiscus moscheutos)
There's two things I have to say about this plant. One, please don't ask me to say its species name (mow-she-owe-tus?) because every time, you get a different pronunciation out of me. Two, this is a plant I used to see during my "commute" from garden to garden and would always admire. It's easy to think when you see a plant with such showy flowers that a human had to have a hand in it; that it was intentionally planted. This native hibiscus is simply a natural beauty. Like most of the plants in the TBGW, this is set back in wetter areas, so you have to appreciate it from afar. But, if you really have to see it up close, you could spot plantings of it at Heron, Grouse, and Loon.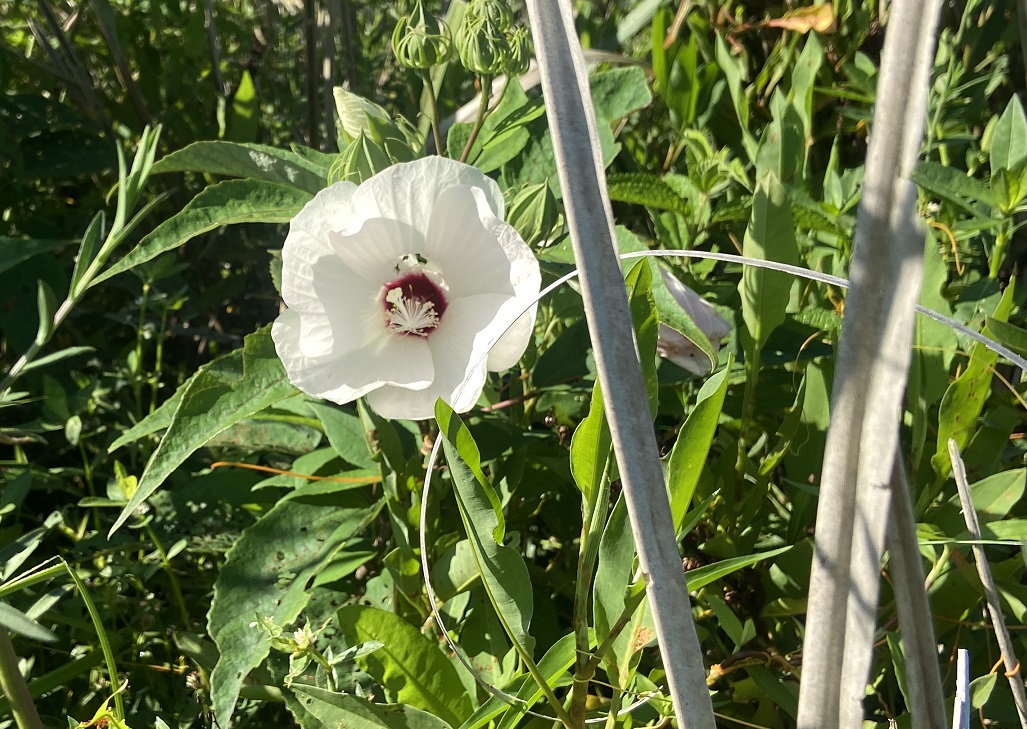 2) Obedient Plant (Physostegia spp.)
Near the water you may also notice a few spikes of pink shooting up. From afar, it almost looks like a very delayed pink snapdragon that isn't quite sure what season it is. This, however, is not the case. Obedient plants can be seen in the summer along the edge of the water, and perfectly content near the river. Like most of the other plants on this list, it too is best enjoyed from afar.
3) Pickerel Weed (Pontederia cordata)
This purple-flowered beauty is one to admire from the shore (I know, it's kind of a theme here!), but unlike most of the other plants we've looked at, pickerel weed likes its soil to be very wet. While you may see this close to the water's edge, you can also see it growing in the water too. Fortunately, its flowers are large enough to appreciate from the comfort of dry land! In addition to its attractive flowers, its foliage isn't too shabby either:  vibrant green, upward pointed leaves are arrow shaped, creating further interest.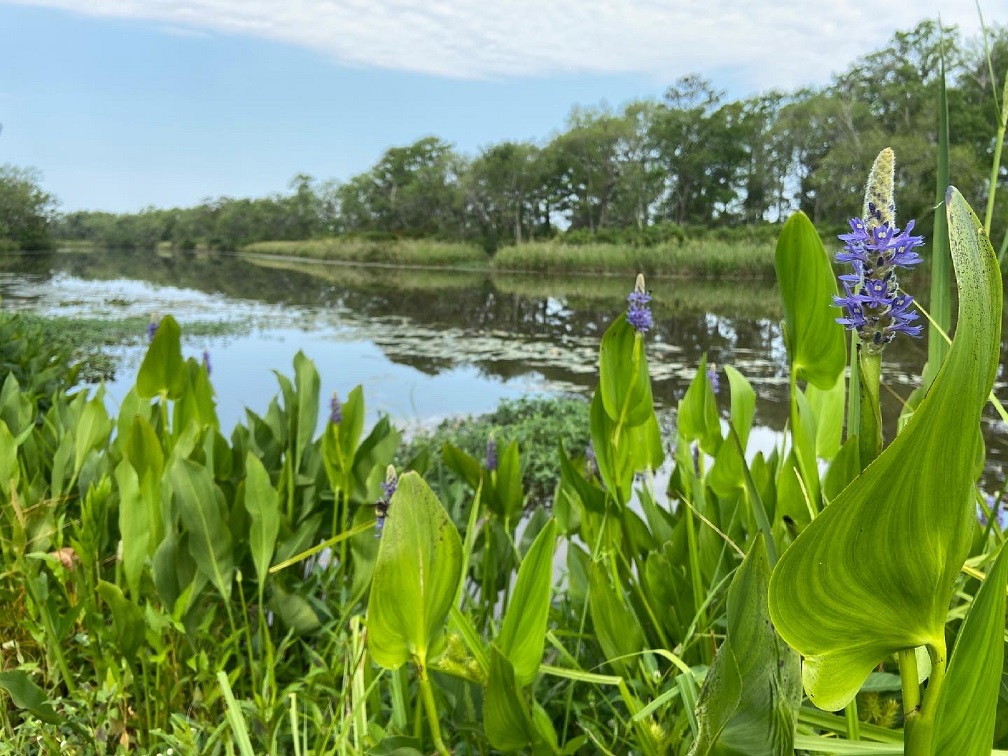 4) Bald Cypress (Taxodium distichum)
The majestic bald cypress is also along the paths you can travel along the TBGW. These wonderful conifers are unique in that, unlike many conifers, they are not evergreen! This time of year, you will be able to appreciate their soft, green needles, and even catch some of their round, volleyball-like cones. Even if you can't make a trip out until the winter, the architecture of the bald cypress, needle-less or not, is still a sight to behold. Added bonus? There are some right along the grassy paths that you can get up close and personal with, unlike the rest of the plants on our list!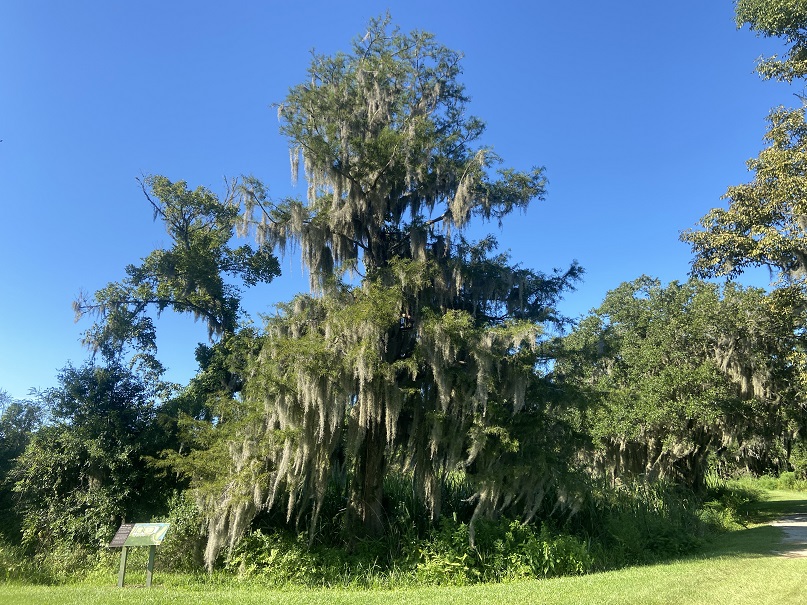 5) Blueflower Eryngo (Eryngium integrifolium)
I don't want to sound biased, but I'm human, so why hide it? I saved the best for last! Blueflower eryngo is one of my favorites. It's funky, its color is gorgeous, it's native – I daresay, it's a trifecta of absolute amazement! When I went out to the TBGW, I was so excited to see this in an early, magnificent bloom. The steely-blue, almost metallic looking, orb-shaped flowers line the borders of the trail. These gem-like beauties are so cool to see in person (and they're not bad in photos either!). As with the rest of the plants on this list, they also like to have wetter soil. While they may not be growing as close to the water as the others, they certainly appreciate the moisture!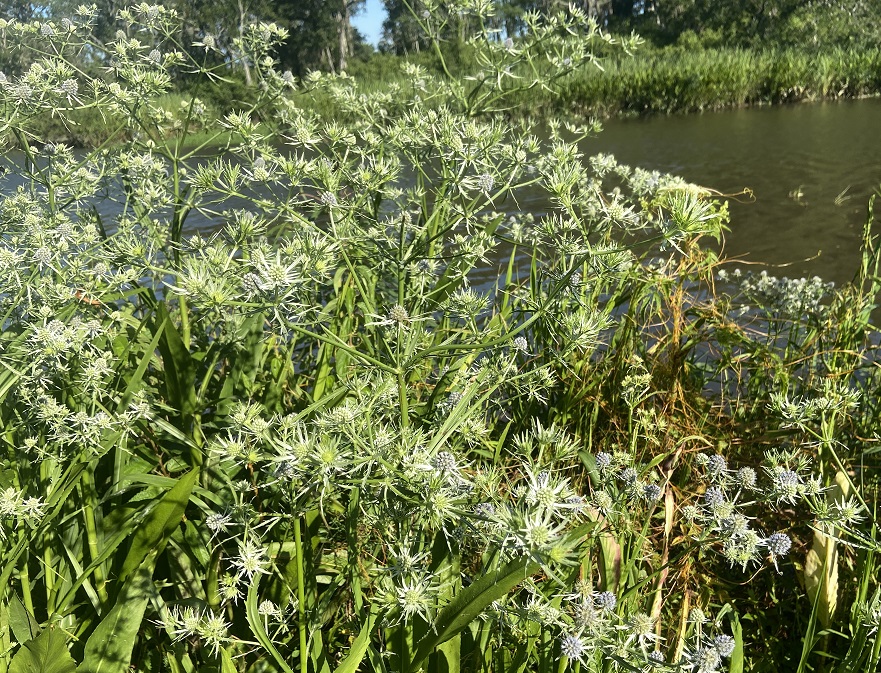 On your next trip to Brookgreen Gardens, make sure you visit the Trail Beyond the Garden Wall. If it's your first time, you certainly won't regret it, and if you're a frequent visitor, keep your eyes peeled for new sights you may have never seen before.
See you in the Gardens!